Lightning defenseman Braydon Coburn has long had a reputation of being a strong shutdown defender but in recent years, he has shown signs that he is better off as a depth player than a top-four rearguard.  With that in mind, Tampa Bay may very well be considering moving on from the veteran.
Coburn played a regular role in 2017-18 but saw his ice time dip to just 16:01 per game, the lowest of any of his full-time NHL seasons.  That was cut even further in the postseason as he dropped to 14:06 per night although he still played in all 17 of their playoff games.  While he still serves a role, he certainly isn't living up to the $3.7MM per season he's getting on his current contract, which will enter the final year in 2018-19.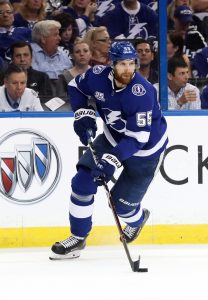 While Tampa Bay isn't as tight to the salary cap as they have been in recent seasons, they could still certainly benefit from some extra flexibility this summer.  They have just over $68MM committed to 18 players per CapFriendly but they also have a big ticket contract coming in forward J.T. Miller who is coming off of a 58-point season and has arbitration eligibility.
Buying out the remainder of Coburn's contract would result in his cap hit dropping from $3.7MM to $1.23MM, a savings of $2.47MM for 2017-18.  With the role that the 33-year-old has filled recently, they could replace him with someone cheaper and reallocate the rest of the savings elsewhere.
However, doing so would also create a $1.23MM cap charge for 2019-20.  That may not seem like much but winger Nikita Kucherov's contract expires after the upcoming season and he will be in line for a massive raise next summer.  They're going to need all the payroll room they can get to keep him around so $1.23MM in dead money certainly isn't appealing.
As a result, there's a good chance that GM Steve Yzerman will look to trade Coburn with some salary retention (up to 50% can be held back) before really looking at the buyout route.  While that would lessen their savings for 2018-19, he would come off the cap entirely after the season.  It should be noted that Coburn can block a trade to 14 teams but if the options are a trade with his full contract or a buyout, he may be open to a move even if it isn't to a preferred destination.
The first buyout window this offseason runs from June 15th through the 30th.  While some decisions will likely come quickly, Coburn's case is likely one that will be delayed until as close to the deadline as possible.
Photo courtesy of USA Today Sports Images.