Earlier this season Jack Johnson asked the Columbus Blue Jackets to trade him. It didn't have anything to do with a distaste for the team, city or coaching staff, but instead because he was looking ahead and trying to secure a healthy payday for himself. Johnson had been embroiled in a long, public legal battle with his parents who had racked up debt in his name, and was using a big portion of his Blue Jackets contract to pay it off. When his minutes and role started to slip in Columbus due to the emergence of Zach Werenski and Seth Jones, Johnson started to worry about the fact that he was scheduled to become an unrestricted free agent this summer.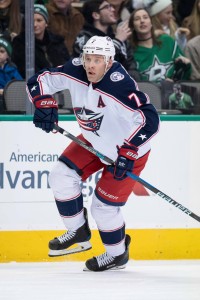 The Blue Jackets would decide not to trade Johnson, instead using him more frequently and keeping him as an integral part of their playoff squad. Now, as he heads towards free agency he may have nothing to worry about in terms of finances. Bob McKenzie was on TSN radio recently and spoke about Johnson, speculating that the defenseman could earn in the "neighborhood of $6MM." While some may bristle at that number for a 31-year old who registered just 11 points this season, remember that Johnson had logged an average of more than 20 minutes a night for ten straight seasons before finishing at 19:33 this year. Many could still believe that he could play a big role on their blue line, and on a short-term deal pay up to get him.
McKenzie qualified the amount by saying "give or take a million," and that seems more likely where Johnson will fit in. The biggest thing in his favor though might be the relative lack of quality options on the free agent market behind John Carlson. Calvin de Haan looked like he was on a path for a big payday before he was injured this season, while Mike Green and others present their own risks.
Though there are reports of Johnson being linked to the Montreal Canadiens, most notably by Elliotte Friedman of Sportsnet who claimed they could be a "stealth destination" for the free agent defenseman, McKenzie wouldn't go so far as to say he knows anything about that. He did however say that they could be interested since they are looking to upgrade their defense corps, after a disappointing 2017-18 season.
For whoever signs Johnson, it's clear that his market is still healthy enough to demand a high-priced deal. It's not clear how long a team is willing to commit to the two-way defenseman, but we'll find out in just a few weeks.
Photo courtesy of USA Today Sports Images