With the trade deadline approaching, we will be profiling several players in the weeks ahead that have a good chance to be dealt by February 26th.
New coach, new expectations, but in the end, the Vancouver Canucks don't look that much different. Vancouver finds themselves in seventh place in the Pacific Division, once again not competing for a playoff spot. The Canucks had higher expectations this year when they decided to add some veteran depth to the team in hopes it might spark their young core to play at a higher level. The team does have hope as they have a large amount of talented young prospects that aren't too far away from joining the team over the next few years, but they must answer the question if they want to move out veteran scorer Thomas Vanek.
Contract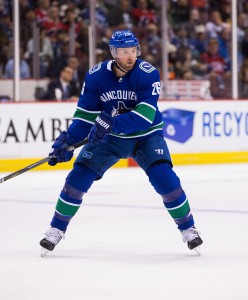 Vanek is currently finishing up the one-year contract he signed this offseason with Vancouver at $2MM. He will be an unrestricted free agent this offseason.
2017-18
At age 34, many teams believed that Vanek's game may have passed him by and many of those teams chose to look elsewhere this offseason. He wasn't signed until Sept. 1 by Vancouver, but he continues to prove that he can score in this league. He currently has 16 goals in 56 games and has impressed management to the point that they are considering re-signing him to an extension.
While Vanek has been fortunate enough to play on a line with rookie sensation Brock Boeser, the veteran has shown he can still score clutch goals and set up his teammates as well. He is quite versatile and is capable of playing anywhere in the lineup if needed. His lack of speed, however, doesn't help him.
Season Stats
55 GP, 15 goals, 22 assists, 37 points, -15 rating, 24 PIM, 102 shots, 13:59 ATOI, 44.7 CF%
Potential Suitors
Vanek could have a number of suitors, because of the fact that he won't be very costly. The Detroit Red Wings, who traded away Vanek at the trade deadline a year ago, only received an average prospect and a third-round pick from the Florida Panthers. So, many teams that are short on salary cap space and picks may find Vanek to be an interesting option, ranging from the Pittsburgh Penguins to the Nashville Predators.
One possibility could be the Boston Bruins, who are desperate for depth on the wings. Vanek might be a good fit to join the Bruins second or even third line and provide even more offense during a playoff run. His penalty killing skills might also be helpful for Boston as well.
Likelihood Of A Trade
It's more of a 50-50 proposition. The team could easily find a take for Vanek, but will the Canucks get true value for him? Perhaps if the team can get a second-rounder for Vanek, then it might be worth it, but at the same time, there are rumors that Daniel Sedin and his brother Henrik Sedin are considering returning for another year next season. The question then is, should they keep Vanek around for another year.
Photo courtesy of USA Today Sports Images