As we wrote yesterday, the Toronto Maple Leafs found themselves with an excess of wingers heading toward the trade deadline and today have moved on from one of them. The team has traded Nikita Soshnikov to the St. Louis Blues in exchange for a 2019 fourth-round pick. Soshnikov is technically still on injured reserve, though he has completed a conditioning stint in the minor leagues and from all accounts is ready to return to NHL action.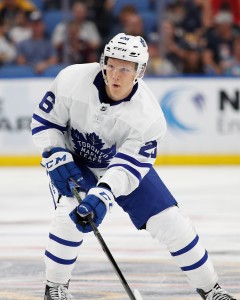 The Maple Leafs had been at the 50-contract limit for some time, and needed to make a trade to open up room for some flexibility into the deadline. Moving Soshnikov not only gives them that flexibility, but also an asset in exchange for a player who would have a hard time cracking the lineup. The 24-year old winger has dealt with injury for much of the last calendar year, including a concussion suffered when he collided with Zdeno Chara at the end of last season. That has clouded his future, but there remains upside for the Blues.
In Soshnikov, they're acquiring a hard working winger capable of engaging physically and playing a few different roles on the team. Though he's not guaranteed to score at the NHL level, he has shown that ability in the minor leagues and possesses a good shot with a quick release.
Unfortunately, two things made a departure seemingly inevitable in Toronto. First, Soshnikov lost his waiver-exempt status earlier this season and would have likely been snatched up had they tried to pass him through. Second, his contract includes a European Assignment clause, meaning he could choose to go back to Russia if sent to the minor leagues. Though Soshnikov has not made any indication he would exercise the clause, it likely played into the Maple Leafs decision.
The Blues will have to decide in the next few days whether Soshnikov is fit to return from injured reserve, and where he fits into their plan for the last part of the season. As a pending restricted free agent, his camp will surely be pushing for an opportunity to show that he can contribute in a meaningful way down the stretch.
Photo courtesy of USA Today Sports Images