With the trade deadline fast approaching, we will be taking a closer look at the situation for each team. Where do they stand, what do they need to do, and what assets do they have to fill those needs? Next up is a look at the Toronto Maple Leafs.
Two years ago the Toronto Maple Leafs were at the very bottom of the NHL. After winning a lottery for the right to select Auston Matthews, and seeing a half-dozen other rookies make big impacts last season, the team is now locked into a playoff spot in the Atlantic Division and looking to compete for the Stanley Cup.
Record
34-19-5, third in Atlantic Division
Deadline Status
Moderate Buyer
Deadline Cap Space
$4.71MM full-season cap hit due to LTIR, 1/3 retained salary transactions, 50/50 contracts per CapFriendly
Draft Picks
2018: TOR 1st, TOR 2nd, SJS 2nd, SJS 3rd, TOR 4th, TOR 5th, TOR 7th, ANA 7th
2019: TOR 1st, TOR 2nd, TOR 3rd, TOR 4th, TOR 5th, TOR 6th, TOR 7th
Trade Chips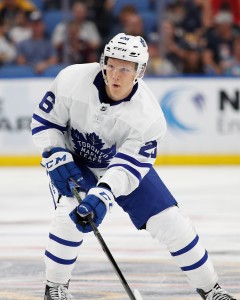 The Maple Leafs have seen an incredible amount of young players make an impact in the last 18 months, and because of it there is a log jam of talent on the wing. The team has recently resorted to sticking Matt Martin in the press box as a healthy scratch, while Josh Leivo and Nikita Soshnikov can't work their way into the lineup for various reasons. All three players are likely available for the right price, though Toronto has been known to demand high prices from inquiring teams in the past.
They also carry some of the more interesting rental names heading into the deadline, as James van Riemsdyk, Tyler Bozak, Leo Komarov, Dominic Moore and Roman Polak are all scheduled to become unrestricted free agents in the summer. While it seems like Toronto will try to hold on to most of this group to help in a playoff run this spring, there could be an opportunity to move one or two out depending on what's available to bring in.
Their prospect pool, while weakened because of recent graduations, still has some very interesting names like Timothy Liljegren, Carl Grundstrom, Jeremy Bracco and Andreas Johnsson. If Toronto gets into any high profile bidding (which seems unlikely), you can be sure some of these names will be discussed.
There is also some NHL experience playing for them at the AHL level, with Martin Marincin and Calvin Pickard big parts of the dominant Toronto Marlies team. Marincin has had his chance with the Maple Leafs and blown it, Pickard has barely played for the team since being acquired from the Vegas Golden Knights earlier in the year. If any team feels they can turn one of them into a playoff performer, the pair of 25-year old second-round picks—or fellow AHL goaltender Garret Sparks—could be included in a potential deal.
Five Players To Watch For: F Josh Leivo, F Nikita Soshnikov, F Dominic Moore, G Calvin Pickard, D Martin Marincin
Team Needs
1) Defensive Depth: Travis Dermott has made an immediate impact on the Maple Leafs, and looks poised to stay in the lineup down the stretch and into the playoffs. While he's locked down the left side on the third pair, the right side is still a rotating door. Connor Carrick and Roman Polak have each struggled at times, and could be supplanted if another option becomes available. The ability of Dermott, Morgan Rielly and Ron Hainsey to play their off-side makes it possible for the Maple Leafs to acquire whoever they want.
2) Fourth-Line Center: Similar to the acquisition of Brian Boyle last season, the Maple Leafs could still use an upgrade in their fourth-line center role. Though Moore has been effective the last few weeks, the team is still razor thin at the position and would likely have to move Patrick Marleau or William Nylander to the middle if faced with injury. That's not an ideal situation, so it wouldn't be surprising to see Toronto add another body down the middle before February 26th.
Photo courtesy of USA Today Sports Images