In a move that many Nashville Predators fans have been hoping for since his KHL debut, Eeli Tolvanen is expected to join the team after his season is over. That's what Craig Custance of The Athletic (subscription required) reports in his latest, quoting assistant GM Paul Fenton:
We'll have a contract in place to be able to execute and have him come over here. That's the plan. Funnier things have happened. I don't want to say 100 percent. I never do that in our business. Yes, our plan is to have him.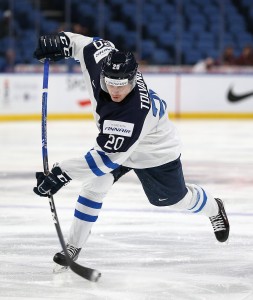 Tolvanen is heading back to Jokerit after an outstanding Olympic performance for Finland, scoring nine points in five games. The 18-year old forward has found success everywhere he's gone this season, breaking KHL records, leading Finland in scoring at the World Juniors and now impressing at the Olympic level.
Armed with an outstanding shot, Tolvanen can find open space in the offensive zone and create goals from any angle. He isn't limited to a single kind of release, and has the creativity to find teammates when necessary. He fell in the entry draft due to concerns about his commitment and a last minute decision by Boston College to not admit him. Nashville scooped him up at 30th-overall despite being ranked much higher by nearly every scouting service, including eighth among North American skaters by NHL Central Scouting.
As the Predators ready for the trade deadline, the promise of Tolvanen could change their plans. If they believe he's destined to jump right into a substantial role on the team and be able to contribute offensively—something that is not guaranteed, despite his success this season in different environments—they could slow down their pursuit of other scoring options.
Other teams are sure to ask about Tolvanen in the coming days, but as we wrote recently he seems as close to untouchable as anyone can get in the NHL.