The Vegas Golden Knights continue to lock up their pending free agents, this time issuing a two-year extension to Jon Merrill. The deal will pay Merrill $1.375MM per season, and take him to unrestricted free agency after the 2019-20 season. He becomes the fourth such extension handed out by the Golden Knights this season, after Jonathan Marchessault, Brayden McNabb and Deryk Engelland.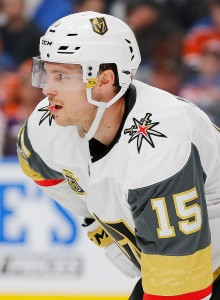 Merrill, 25, was the expansion selection from the New Jersey Devils at the draft last year, but has actually played just 14 games for the team this season. That's because of a combination of injuries and the Golden Knights having too many defensemen on the roster, but when he has been in the lineup he's done quite well. The former Michigan Wolverine has just two points on the season, but is a positive possession player and can be relied upon in his own end.
Selected in the second round, 38th-overall in 2010, the Devils hoped that Merrill would develop into a sort of shutdown defender that could be played against top competition on a nightly basis. There's never been a ton of offense there, but he carries penalty killing experience and a big enough body to compete physically when needed (though, that's still a part of his game that is underdeveloped.)
The Golden Knights still have too many defensemen in the organization, but going forward they're going to need relatively cheap options to fill in the gaps. If Nate Schmidt gets a big extension, or Shea Theodore wants a long-term deal, relatively small commitments like the $2.75MM given to Merrill will help maintain long-term success. In each of their extensions so far, the Golden Knights have made sure to not go overboard rewarding this season's production. Even Marchessault, who received a $30MM deal, will look like a bargain if he continues to put up 30-goal seasons.
Even with these moves, the question still remains in Vegas on what will be done with James Neal, David Perron and Luca Sbisa. All three are unrestricted free agents in the summer, and could be used as trade bait closer to the deadline. If the Golden Knights feel like they could replace their production internally without jeopardizing a playoff run, there is still a chance they could sell some assets this season. Otherwise, we may have to get used to these extensions being handed out.
Frank Seravalli of TSN was first to report the deal was done.
Photo courtesy of USA Today Sports Images