The activity level has started to pick up across the league as we have now passed the one-month mark of the season.  Here's a look back at the top stories from the past week.
Shipachyov Saga Finally Ends: It took longer than expected but all parties agreed on Vadim Shipachyov's departure from Vegas and the NHL.  Instead of going on waivers to terminate his contract, he instead retired with the Golden Knights placing his name on the Voluntary Retired List.  This means that they will retain his rights through his age-35 season if he ever decides to try his hand in the NHL again down the road.  He wasted little time rejoining his former team in Russia, SKA St. Petersburg, although he wound up taking quite the pay cut in order to do so.
Yamamoto, Tippett Return To Junior: The Oilers decided to return 2017 first rounder Kailer Yamamoto to Spokane of the WHL.  He got into nine games (the maximum before burning the first year of his contract) and more than held his own but the team is taking the long-term view with him which, given their cap projections down the road, isn't a bad idea.  He made quite the impression in his first junior game as well, collecting four points.  Meanwhile, the Panthers sent winger Owen Tippett, the tenth overall pick back in June, to OHL Mississauga.  Tippett got into seven games with Florida, collecting a goal while averaging a little under 12 minutes per night.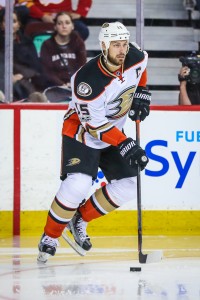 Getzlaf Out Up To Two Months: It seems like every year there is at least one team that gets hit with a significant amount of injuries.  That team appears to be Anaheim this season.  Already without one of their top-six centers in Ryan Kesler, they now will miss their top line pivot in Ryan Getzlaf for up to two months after he underwent surgery on his cheekbone.  Not surprisingly, Anaheim is in the market for help down the middle but there isn't an abundance of top-six options readily available at this time.  For the time being, they will run with Derek Grant as their number one center.
Fleury Nears A Return: It has been a while since the Golden Knights received any good news when it came to their goaltenders.  That may change soon as starting netminder Marc-Andre Fleury is getting closer to returning which would give them a big boost between the pipes.  Unsurprisingly, the team has struggled as of late with Maxime Lagace as the full-time starter while they're still carrying 2017 seventh-rounder Dylan Ferguson as their backup.  Once Fleury is activated off IR, Ferguson will have to go back to the junior ranks right away.
Columbus Ready To Move A Defenseman: After failing to land Matt Duchene (or Kyle Turris), the Blue Jackets remain in the market for help up front.  They are well-stocked on the back end and are willing to move one of their defenders to acquire an impact forward.  Demand largely outweighs supply in terms of quality defensemen being available so Columbus should have plenty of interest from other teams in the coming weeks.
Photo courtesy of USA Today Sports Images.