According to Steve Carp of the Las Vegas Review-Journal, Vadim Shipachyov's deal with the NHL is official. After a negotiation between the NHL and NHLPA, Shipachyov will retire from the league and pay back almost all of his $2MM signing bonus. He'll move to the voluntary retirement list and his full contract will be cleared from the Golden Knights salary cap. His NHL rights will be retained by Vegas until he turns 35, but will now be allowed to seek out a new contract in the KHL.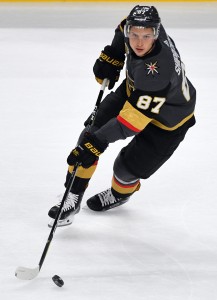 The two sides didn't seek a mutual termination, because Shipachyov would have first needed to pass through waivers and then could have technically been signed by another team in the league. Obviously, the Golden Knights didn't want to lose the asset to another team for nothing, so a different agreement was made. Like Ilya Kovalchuk, Shipachyov's retirement will keep him out of the NHL for at least five years though it's more likely that he'll never return. After three games and a single goal, the $9MM experiment is over. Interestingly, Vegas GM George McPhee admitted today that they did have a deal in place for Shipachyov to go somewhere else in the NHL, but the player didn't want that. Shipachyov instead wished to just return to the KHL.
Whatever you think of how this situation was handled, at least Shipachyov can now return home to a league where he wants to play. He obviously didn't want to suit up any longer in the AHL, and the Golden Knights clearly no longer had him in their top-6 plans up front. Incredibly though, he'll actually go down with some impressive small-sample stats. Shipachyov scored just the lone goal, but attempted eight shots towards the net and actually won nine of 12 of the 21 draws he took. He'll finish his three-game NHL career with positive possession stats and at 57% in the circle. Fans will be left wondering if that impact could have been carried out for the entire season, or if he wasn't ever going to fit in perfectly with the North American game.
It wouldn't be surprising to see him quickly sign with SKA St. Petersburg again, the team he helped to a Gagarin Cup victory last season. SKA is off to an incredible 28-1 record this season, led by Kovalchuk and Nikita Gusev with 36 points each. Gusev is a name Vegas fans should remember, as his NHL rights are also owned by the Golden Knights. They were acquired as part of the trade from Tampa Bay to get the Golden Knights to select Jason Garrison in the expansion draft, and will be a big story going forward. Gusev is just 25-years old, but has now watched his teammate and countryman go through a trying experience with the expansion team.
Gusev's KHL contract isn't up until April 2019, but there was some hope that he would terminate it early in order to jump to the NHL. A seventh-round pick because of the fear he would stay in Russia, Gusev is obviously talented enough to play in the NHL. Last season he scored 94 points in 75 games for SKA, and dominated the World Championships with 14 points in 10 games including a tournament-leading seven goals. You have to wonder how the Shipachyov situation will affect Gusev's decision down the line.
Photo courtesy of USA Today Sports Images