The Columbus Blue Jackets were interested in Matt Duchene. They were interested for a long time, and were even quite close to acquiring him at one point. That dream died on the weekend though, when Duchene was traded to the Ottawa Senators and in the process another top-six forward went off the board. There's no telling if Columbus had interest in Kyle Turris, but as Pierre LeBrun explained in the latest edition of Insider Trading for TSN, they still believe they need help up front.
The bottom line is this. They have [defensemen], they're ready to move one, and they want to get better up front.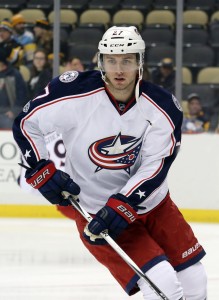 LeBrun details that the Blue Jackets' preferred add would be a top-six center, but that they would settle for just a forward of that variety. As he notes, the team is incredibly deep on defense at the moment, thanks to the emerging play of Markus Nutivaara and Gabriel Carlsson. The most obvious candidate to be moved would be Ryan Murray, who was included in the Colorado talks and seems to be the odd man out in Columbus. The second-overall pick in 2012 (behind Nail Yakupov) has developed into a good-but-not-great option on the left side, and has been passed over by Zach Werenski in the pecking order. Murray is also a restricted free agent this summer, one that it's not clear the Blue Jackets will have the room to pay long-term.
The other interesting option though would be Jack Johnson. Though Blue Jackets fans would hate to lose their long-time leader on the blue line, the fact remains that he's an unrestricted free agent this summer. Johnson is still an important part of the team, and losing him would force Murray and others to step into bigger roles, but he's another that the team probably can't afford to keep long-term. 30-years old now, Johnson has done more than enough to deserve a multi-year contract on the open market this summer and with Seth Jones and David Savard already inked long-term, he may price himself out of their market.
The question then becomes how the Blue Jackets want to attack this season. Johnson has a bigger role than Murray currently, but would likely net them a smaller package on the open market. The team sacrificed their 2017 first-round pick to get David Clarkson's contract off the books and protect Josh Anderson from expansion, but would they be willing to include their 2018 pick to acquire the top forward? A rental like Johnson, or an underperforming Murray may not be enough on their own depending on who it is. For a team expected to compete for the Stanley Cup, tough decisions await.
Photo courtesy of USA Today Sports Images