Following the Maple Leafs' acquisition of Brian Boyle, the Ottawa Senators have made their own deal up front. The Vancouver Canucks have sent Alex Burrows east in exchange for Jonathan Dahlen, a prospect selected in the second round this summer. The deal includes a two-year extension for Burrows which will pay him $2.5MM per season.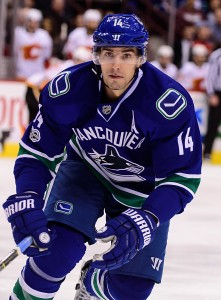 Ottawa has needed help on the wing since Bobby Ryan broke a finger and was ruled out for more than a month if not before. When Mark Stone and Mike Hoffman were both injured the next day, it proved just how fragile their depth at the position was. Burrows adds to that depth in a big way, despite not being the 30-goal scorer of his youth. His production has dropped to that of a third liner in recent years, though he does give you some special teams flexibility with experience on both the powerplay and penalty kill.
Burrows is currently earning a full season salary of just $3MM, though his cap-hit comes in at $4.5MM. For a team like Ottawa who does not spend right up to the cap, having a lower actual salary is a big plus.
Despite having his offensive production slip in recent seasons, Burrows still provides an ample amount of sandpaper to any game, getting under the skin of star players and often forcing teams into bad penalties. His style of play and general demeanor will be welcome on an Ottawa team that has missed that kind of play from Chris Neil due to being scratched or only playing a handful of minutes. Burrows would immediately become a hated target in the Atlantic Division, and a valuable playoff asset.
Burrows had a full no-trade clause in his contract, and may have only been willing to waive it after agreeing to an extension with the Senators. There was no guarantee he would get a two-year deal on the open market this summer, especially at the age of 35. With the Atlantic crown is clearly up for grabs, the Maple Leafs and Senators have pushed some of their chips forward as they reach for the top. We'll see if the Montreal Canadiens now answer with a move of their own (turns out they will).
In Dahlen, the Senators have paid a very high price for the addition of grit and depth. The Swedish prospect was selected at #42 in this summer's draft and is tearing up the Swedish second league with 41 points in 43 games. The 19-year old forward is an exceptionally skilled offensive player that dropped in the draft due to his small stature. The Canucks, dealing with a nightmarish season have pried a very good return out of a rental with a no-trade clause. While they didn't receive any draft picks, Dahlen should be considered no worse than a late-first/early-second round pick in this year's draft.
It's a hefty price to pay for Burrows, even if he does fit the Senators lineup well. We'll see if Ottawa has any more additions in the next few days, as teams load up for a dogfight in the last two months.
Bruce Garrioch of the Ottawa Sun was the first to announce that the two were finalizing a deal, though Joshua Kloke of The Athletic heard rumors of the deal earlier today. Kloke would include that it came with an extension, one that Dan Murphy of Sportsnet gave us the financials on.
Photo courtesy of USA Today Sports Images