It's a big day in the Atlantic Division. The Montreal Canadiens have made a deal of their own, acquiring Jordie Benn from the Dallas Stars in exchange for Greg Pateryn and a fourth-round pick. The Stars defenseman has two years left on his current deal at $1.1MM per season.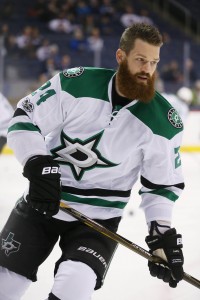 After Pateryn was publicly put on the block recently, it was only a matter of time before the Canadiens found a taker for the 26-year old. Turns out they've used him as part of a package to acquire the Benn, a solid depth defender that will help them in their playoff push—especially now that the Maple Leafs and Senators have added to their forward groups.
Benn is the older brother of Stars' captain Jamie Benn, but far less of a household name. A fine puck-mover capable of playing on the penalty kill, he has 15 points in 58 games this season. Despite being left-handed, Benn has been playing the right side in Dallas and may jump right over Nikita Nesterov who was acquired earlier this year and has played sparingly in recent weeks.
With the Habs relying so much on a 38-year old Andrei Markov and a less than effective Alexei Emelin, Benn offers some respite. Though Nathan Beaulieu has shown the promise of a top-pairing defenseman in the future, adding the experience of a proven NHL player is always welcome as a team heads towards the playoffs. The fairly low cost of Pateryn and a fourth-round pick is understandable for a team in first place.
Photo courtesy of USA Today Sports Images