Well there goes that option at the trade deadline. Patrik Berglund has signed a five-year extension with the St. Louis Blues for an AAV of $3.85MM. Thought to be on the market over the past few weeks, rumbling began the last few days that the two sides were trying to reach an agreement. For the Blues, they've locked up a key player at a very reasonable cap hit for the next few years, while Berglund gets some stability and stays with the organization that gave him his first opportunity. The deal will also include a partial no-trade clause, the details of which are yet to be revealed.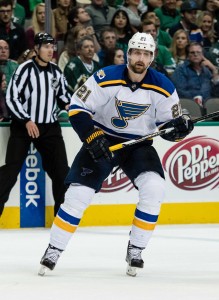 The 28-year old center has gotten back to his goal-scoring self this season with 17 markers so far, and looks like he may set a career high this season. A consistent 20-goal threat, $3.85MM is only a small increase on his current salary of $3.7MM. The Blues were likely trying to get this done before the deadline forced their hand. Berglund signing will now turn all the attention to Martin Hanzal and Brian Boyle in the coming days as the already small group of free agent centers becomes even smaller.
Berglund was a first-round pick back in 2006 for the Blues, who viewed him as a potential dominant center with his combination of size—6'3″, 220 lbs—and skill. While he hasn't quite turned into a top-line presence, he has scored 145 goals in his 615 games and been a dependable player at both ends of the rink. He's physical, can play on both special teams and doesn't kill you in the faceoff dot (though he isn't great there either). Most teams would have been interested in adding him at this number, and after losing David Backes and Troy Brouwer to free agency last season, it's a nice signing for the Blues.
A comparable contract is that of Darren Helm, signed just this offseason by the Detroit Red Wings. Helm will earn the same amount for the same length, but received a full no-trade clause in the deal. Helm doesn't have the scoring ability of Berglund and is a year older, but does have quite the reputation for his defensive game. At that number, the Blues can afford to install Berglund in the #3 center role for the duration of his contract and pay a little bit more to the two players ahead of him.
Pierre LeBrun provided details on the no-movement clause, while the actual deal was released by the team itself.
Photo courtesy of USA Today Sports Images