The Sabres gave a performance worthy of Grinch-like proportions writes the Buffalo News' Mike Harrington. Approaching the holiday season, the Sabres gave their fans a performance akin to receiving coal at Christmas. Losing 3-1 to the Hurricanes Thursday evening, the Sabres were serenaded with boos from the home crowd at multiple points of the game Harrington reports.  More importantly, Harrington continues, are Jack Eichel's struggles and how it has affected the team. Harrington talked to the young star after the game, who was "seething" with head coach Dan Bylsma's decision to take away ice time. From Harrington:
Asked if he was surprised to not be on the ice, the 20-year-old said the time to discuss the topic was over.

"I think I just answered that. I'm not the coach," he said. "Like I said, we had a lot of opportunities on the first power play. … I was on the second power play. I'm out there working hard. I think that's all I really have to say about that."
Bylsma was "unusually intense" during the morning skate, but his teaching apparently fell on deaf ears. Worse, Buffalo slipped into a tie with Detroit for last place in the Atlantic with the loss. Harrington writes that redemption could come in the way of beating the New York Islanders tonight.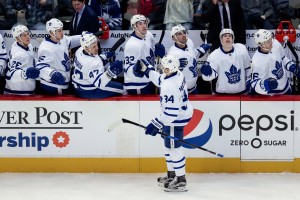 Auston Matthews is set to play his first game in his home state tonight, and the excitement for his return is through the roof writes NHL.com's Dan Rosen. From Arizona youth hockey teams to Matthews' own parents, the entire state of Arizona has been waiting to see their homegrown son return to where many thought hockey would never last. Instead, the #1 overall pick in the 2016 draft not only hails from the non-traditional hockey market of Arizona, he's the face of the organization that many consider the epicenter of the hockey world. Matthews' importance to the state of Arizona goes beyond just local pride. It's the idea, Rosen continues, that Arizona finally has relevancy in hockey's eyes.
Jared Coreau is set to start in net tonight for the Detroit Red Wings tweets MLive's Brendan Savage. Head coach Jeff Blashill broke the news to Petr Mrazek, who has struggled to keep hold of the starting job in light of Jimmy Howard's strong play. Savage adds that Blashill said he wants players to "want to be in" and though they may not agree, Savage tweets that Blashill declares that he has the final say. This season, Mrazek is 9-7-3 with an .899 save percentage. His struggles are one of many on the team this year that has landed the Red Wings in a tie for last place in the division.