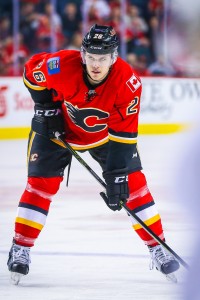 While Calgary Flames fans wait with bated breath for word on their star restricted free agents Johnny Gaudreau and Sean Monahan, they've come to an agreement with a lesser known player. Tyler Wotherspoon has been signed by the club to a one-year, two-way deal. General Fanager reports that the deal is worth $625K at the NHL level.
Wotherspoon, 23, was the Flames' second-round pick in the 2011 draft, 57th overall. While spending most of the past three seasons in the AHL with the ever-changing Flames affiliate (Abbotsford, Adirondack and now Stockton), Wotherspoon has been called up to the NHL on multiple occasions, suiting up in 26 career games.
Not expected to be much more than a seventh defenseman this season, Wotherspoon is no longer waiver-exempt, meaning that he won't be able to be shuffled up and down without clearing waivers each time.  While he's not a huge risk to be stolen, it's probably something the Flames would still rather avoid.
[Related: Calgary Flames Depth Chart]
After re-starting their hearts ("Flames sign" is a good way to get attention at the moment), Calgary fans will now continue to wait for the inevitable contracts given to Gaudreau and Monahan. Both have expressed the desire to remain in Calgary long-term, but with each passing day the fanbase becomes more frantic. With just under $15MM in current cap space, the team should be able to fit both players in without making any subsequent moves.
Photo courtesy of USA Today Sports Images.