Not that long ago, the Los Angeles Kings were locked in a battle almost every year with the Chicago Blackhawks as the top team in the Western Conference, sharing five Stanley Cups between the two teams in a six-year span. Los Angeles still has Anze Kopitar and Drew Doughty from those dynastic teams in the early 2010s but has also engaged in a remarkable re-tool under General Manager, Rob Blake, once again becoming a contending team in the Western Conference.
After missing the playoffs in three consecutive seasons, the Kings have made the playoffs in back-to-back years, losing in the first round to the Edmonton Oilers each time. In a wide-open Western Conference playoff picture, Los Angeles is knocking on the door to get their aging veterans one more run. This offseason, the Kings made some prudent moves to put themselves over the top, but still have some questions surrounding their roster.
Draft
2-54: D Jakub Dvorak, Bílí Tygři (Czechia)
3-78: F Koehn Ziemmer, Prince George (WHL)
4-118: G Hampton Slukynsky, Warroad High (USHS-MN)
5-150: D Matthew Mania, Sudbury (OHL)
6-182: F Ryan Conmy, Sioux City (USHL)
With an eye on the long-term, it was all but certain that the Kings were going to use their first selection in the 2023 NHL Draft on a defenseman. They already have a decent amount of offensively talented defensemen in their system, so selecting a shut-down defenseman such as Dvorak makes a lot of sense. In 24 games for Bílí Tygři last season, Dvorak would only tally two assists, however; it is very clear from watching him play that he is extremely effective in using his body to knock opposing players off of the puck.
Although Dvorak was a solid choice for the long-term, Ziemmer could potentially be the Kings' best player coming out of this draft. There are some serious concerns with his skating ability, and that could lead to the reason he fell so far in the draft, but Ziemmer has an undeniable ability to score. Playing on a solid Prince George team in the WHL last year, Ziemmer put up 41 goals and 48 assists in 68 games, also tallying three goals and four assists in 10 playoff games.
Trade Acquisitions
F Pierre-Luc Dubois (from Winnipeg)
Executing one of the biggest trades of the offseason, the Kings were able to bring in an excellent second-line center without surrendering a first-round pick in the deal. Shortly before the deal, in what would become a sign-and-trade acquisition, Dubois signed an eight-year, $68MM contract with the Winnipeg Jets, which should hopefully keep him in Los Angeles for quite some time.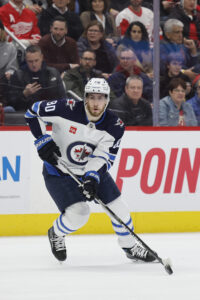 There are clear concerns with Dubois, as both his exit from the Columbus Blue Jackets and again in Winnipeg were surrounded by drama. Historically, throughout his career, Dubois has never seemed content with where he is playing. However, with a long-term deal in place, the expectation should be that Dubois commits to that contract, and spends the next eight seasons with the Kings.
Regardless of the controversy that has surrounded his career up to this point, Dubois is coming off two solid seasons with the Jets. Over the last two years, Dubois has played in 154 games, scoring 55 goals and 68 assists, showing that he can be a very reliable second-line center. He also provides a physical presence given his large frame and has carried substantial possession numbers as well. Given his style of play, and the players he will be joining in Los Angeles, Dubois projects as an above-average pickup for the Kings.
Key UFA Signings
D Andreas Englund (two years, $2MM)
D Joe Hicketts (one year, $775K)*
F Trevor Lewis (one year, $775K)
F Mikhail Maltsev (one year, $775K)*
G David Rittich (one year, $875K)
D Steven Santini (one year, $800K)*
G Cam Talbot (one year, $1MM)
* denotes two-way contract
Seeing most of their cap space eaten up after the contract given to Dubois, the Kings primarily spent the offseason nibbling around the edges in the free-agent market. They were able to iron out their depth at all positions, bringing back Lewis as well as bringing in Englund to beef up the bottom pairing of their defensive core.
After seeing Joonas Korpisalo depart after a shaky performance in the 2023 Stanley Cup playoffs, the team brought in Talbot to shore up their goaltending depth, but the acquisition seemingly has brought up more questions than answers. In the team's defense, their rival, the Vegas Golden Knights, just won the Stanley Cup from an unlikely performance out of goaltender Adin Hill, but a tandem of Pheonix Copley and Talbot doesn't appear as a strength to the team.
Getting an honorable mention is the team's ability to retain defenseman Vladislav Gavrikov with a two-year, $11.75MM contract. Technically not a UFA signing given that the contract was signed well before July 1st, it was a prudent move by Blake to strengthen the team's blue line. After being acquired at last year's trade deadline, Gavrikov was exactly what Los Angeles needed, providing valuable minutes of shut-down defense.
Key Departures
F Lias Andersson (Montreal, one-year, $775K)
F Alex Iafallo (traded to Winnipeg)
G Joonas Korpisalo (Ottawa, five years, $20MM)
F Rasmus Kupari (traded to Winnipeg)
F Zack MacEwen (Ottawa, three years, $2.33MM)
F Gabriel Vilardi (traded to Winnipeg)
Luckily, the Kings didn't stand to lose much in free agency. Their major loss is Korpisalo in net, as besides the playoffs last year, gave the Kings a 7-3-1 record down the stretch, earning a .921 SV% and a 2.13 GAA in 11 starts. Given the contract that Korpisalo signed with the Senators, Los Angeles was simply priced out of his market, even if they did want to retain him.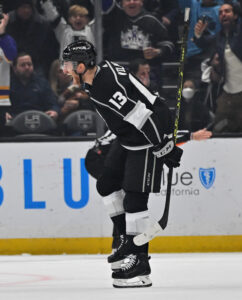 Their most significant departures come via the Dubois trade. Acquiring a player of Dubois' ability, the team had to depart with a trio of solid forwards in Iafallo, Kupari, and Vilardi. Last season, in somewhat of a breakout season, Vilardi scored 23 goals and 18 assists in 63 games played, and should be able to improve on those numbers in Winnipeg with more access to playing time. As for Iafallo, after signing a four-year, $16MM extension with the Kings back in 2021, has not been able to live up to his cap hit since then. Lastly, although he was a first-round selection of the Kings back in 2018, Kupari still has much to prove in the NHL.
Salary Cap Outlook
If the roster enters the season completely healthy, Los Angeles will be very limited this season to make acquisitions to improve their team. According to CapFriendly, the team has a bit over $120K in salary cap space, meaning they will likely have to move salary out if they do make an in-season trade.
Next offseason, the Kings currently have approximately $61MM in committed contracts, and will also carry the $2.025MM of retained salary for the next two years in the deal they facilitated to land Ivan Provorov in Columbus. If the salary cap ceiling increases to the degree that it is currently projected next year, Los Angeles should have a bit more breathing room to continue to improve their roster.
Key Questions
Will The Goaltending Hold Up? As mentioned previously, far and away the biggest question surrounding the Kings is their goaltending. Copley did well last year holding down the fort until the team's acquisition of Korpisalo at the deadline, but it is difficult to expect a repeat performance of that degree. For Talbot, he famously struggled down the stretch for the Senators last season, souring all chances of the team making the playoffs. Los Angeles does have a solid defensive core, which may mask any inefficiencies coming from between the pipes for the most part, but the Kings will more than likely have to procure another goaltender at the 2024 trade deadline.
How Long Is This Team's Window?  Still being the top two players on the team after so many years, Los Angeles is inching closer and closer to facing a hard truth in regards to both Doughty and Kopitar. Both players are extended until at least the 2025-26 NHL season, but at 33 and 36 years old respectively, the Kings cannot afford a situation similar to what the Boston Bruins have had this summer. With their play, neither player has given any indication they won't be top performers for the next several years, but Los Angeles may want to start preparing now for the inevitable departure of Doughty and Kopitar to retirement in the near future.
Photos courtesy of USA Today Sports Images.