Much like they did last summer, the Detroit Red Wings put some money into their defensive core in an attempt to get this team back into the postseason. In free agency, the organization brought in Shayne Gostisbehere and Justin Holl and acquired Jeff Petry at a discount a few months later in a trade with the Montreal Canadiens.
According to CapFriendly, the team currently projects to have eight defensemen on their opening night roster, with prospects Simon Edvinsson and William Wallinder waiting in the wings. Edvinsson won't be ready for the beginning of the season due to an offseason shoulder surgery, but the Red Wings are getting into a territory where they will have to thin out their defensive core at some point.
In the most likely scenario, the team will start with a top pairing of Jake Walman and Moritz Seider, a duo that finished the 2022-23 season on a high note. The second defensive pair will probably feature Gostisbehere and Petry, and the final pair will consist of Holl and Olli Maatta. Aside from Seider, it does not scream of a defensive unit well-built to get this team into the playoffs, but a strong showing from key players could conceivably turn the tide.
Unfortunately for the team, after committing to a four-year, $19MM contract with him last offseason, it does not appear that Ben Chiarot will crack the opening night lineup for this team. Last season, Detroit made an attempt to pair Chiarot with Seider on the top defensive pairing, an experiment that would not work out well for the club. Although a $4.75MM cap hit is an expensive sunk cost for most teams to eat, the Red Wings' available cap space makes it much more palatable.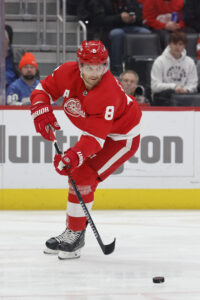 Last season, in his first year wearing the 'Winged Wheel', Chiarot would score five goals and 14 assists in 76 games played, posting a horrendous -31 rating. Given the lack of depth on the roster, Chariot was able to average more than 20 minutes of ice time per night, which does not appear to be a scenario that Detroit can let happen again.
Complicating the issue with Chiarot is that last year, the Red Wings dolled out a three-year extension for Walman, a two-year extension for Maatta, and gave Holl a three-year contract this offseason. Assuming that the team does ink Seider to a long-term extension next summer, that will give Detroit six defensemen signed until the 2024-25 NHL season. In all likelihood, the team will sit Chiarot for much of this year, use a buyout next offseason, and only be on the hook for an average of $1.58MM the next four seasons.
Next, if the team allows Gostisbehere to walk at the conclusion of his one-year deal, this should create a solid opening for Edvinsson and Wallinder to make the opening night lineup for the 2024-25 NHL season, giving the team some more flexibility moving forward.
At that time, the team could create a projected solid long-term top duo of Edvinsson and Seider, allowing Wallinder to play with Petry for one year before his contract expires, and carry an above-average bottom-pairing of Walman and Holl. It is only conjecture at this point, but there may be a pathway to an impressive defensive core, even after several confusing signings from General Manager Steve Yzerman over the last two summers.