Navigating the salary cap is one of the more important tasks for any GM.  Teams that can avoid total cap chaos by walking the tightrope of inking players to deals that match their value (or compensate for future value without breaking the bank) remain successful.  Those that don't see struggles and front office changes.
PHR will look at every NHL team and give a thorough look at their cap situation heading into the 2023-24 season.  This will focus more on players who are regulars on the roster versus those who may find themselves shuttling between the AHL and NHL.  All cap figures are courtesy of CapFriendly.
Montreal Canadiens
Current Cap Hit: $89,677,916 (over the $83.5MM Upper Limit)
Entry-Level Contracts
D Justin Barron (one year, $925K)
D Kaiden Guhle (two years, $863K)
F Juraj Slafkovsky (two years, $950K)
D Arber Xhekaj (one year, $828K)
Potential Bonuses
Barron: $275K
Guhle: $420K
Slafkovsky: $3.5MM
Total: $4.195MM
Slafkovsky's rookie season was a rough one as he had a limited role in the first half before an injury ended his year before he had reached the 40-game mark.  Assuming he has a similar spot on the depth chart this season, his offensive trajectory won't change much, making him a likely bridge candidate.  It also makes his bonuses (including four 'A' ones) unlikely to be met.
Barron split last year between the NHL and AHL and Montreal's defensive depth could force him down to start again.  If he does stick, however, he should at least hit some of his 'B' bonus for games played ($62.5K is the maximum).  A bridge deal would run him somewhere near the $1.5MM mark.  Guhle's first professional season was a strong one as he logged over 20 minutes a night.  Limited offensive production could make a long-term deal tough but if he's viewed as a core player, it wouldn't be surprising to see Montreal take a run at it.  He has two 'A' bonuses in his deal which could be reachable.  Xhekaj was one of the bigger surprises in the league last year, going from an undrafted junior free agent signing right to the NHL.  He had sheltered minutes and, like Barron, could see his waiver exemption work against him.  Assuming he sticks full-time, his role should be similar, paving the way for a bridge contract next summer also in the $1.5MM territory.
Signed Through 2023-24, Non-Entry-Level
D Gustav Lindstrom ($950K, RFA)
F Sean Monahan ($1.985MM, UFA)
G Samuel Montembeault ($1MM, UFA)
F Tanner Pearson ($3.25MM, UFA)
D Chris Wideman ($762.5K, UFA)
F Jesse Ylonen ($775K, RFA)
Potential Bonuses:
Monahan: $15K
Pearson was acquired earlier this month from Vancouver and will be looking to rebuild some value after undergoing multiple wrist surgeries which caused him to miss most of last season.  At the moment, his next price tag should come in below this one.  Monahan got off to a strong start last year before multiple injuries ended his year prematurely.  Given his injury history, he opted to take an early extension from the Canadiens over testing the market.  The bonus becomes payable once he plays in 26 games.  Ylonen is now waiver-eligible for the first time and will be looking to lock down a regular spot on the roster.  He did well enough in limited action last season to position himself for a small raise so if he can become a regular, his next deal should pass the $1MM mark.
Lindstrom was re-signed quickly by Detroit after being non-tendered to avoid arbitration and was flipped to Montreal last month.  His role shouldn't be much different though as he's likely to remain a sixth or seventh defender.  Until he can establish himself as a full-time regular who doesn't need sheltered minutes, his earnings upside will be somewhat limited.  Wideman struggled last season after a decent first year with Montreal.  The back issues that hindered him last season have already resurfaced so his next contract, if there is one, is likely to also be at the minimum.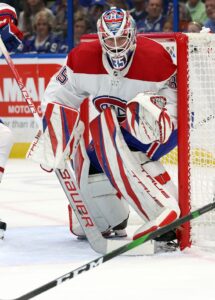 When Montembeault signed this contract last year, it was a sign that both sides were unsure of his upside.  After a rough first season in Montreal, was there another level he could get to?  His performance last year suggests there might be.  He struggled down the stretch but in the first half of the season, his save percentage was above the league average on a team that gave up a lot of scoring opportunities.  He then had a strong showing at the Worlds in May to cap off his year.  His track record isn't strong enough to push for top backup money yet but another season like this past one could push his asking price into the $2MM territory while another small step forward could push it closer to $3MM.
Signed Through 2024-25
G Jake Allen ($3.85MM, UFA)
F Joel Armia ($3.4MM, UFA)
F Christian Dvorak ($4.45MM, UFA)
F Jake Evans ($1.7MM, UFA)
D Jordan Harris ($1.4MM, RFA)
F Rafael Harvey-Pinard ($1.1MM, RFA)
D Johnathan Kovacevic ($766.7K, UFA)
F Michael Pezzetta ($812.5K, UFA)
D David Savard ($3.5MM, UFA)
Former GM Marc Bergevin hoped that Dvorak would be able to fill the role that Jesperi Kotkaniemi was supposed to after Montreal declined to match his offer sheet with Carolina.  That hasn't happened; instead, he has settled in more as a third-line option.  In this market, that's a bit of a premium price.  Armia's contract is definitely a premium as his offense just hasn't come around.  He's a capable defensive player but someone who is more or less valued in that role should be closer to half this price.
It looked like Evans was going to be a bargain last season.  Coming off a career year in 2021-22, he was expected to push for some playing time on the third line.  That didn't exactly happen and he scored just twice in 54 games.  If he can get back to the 29 points he had the year before though, they can still get a good return on this deal.  Harvey-Pinard impressed in a midseason recall and while a 24.1% success rate on shots isn't maintainable, he doesn't need to produce at that clip to live up to this bridge deal.  Pezzetta is an end-of-roster player at a price tag that's pretty close to the league minimum so they'll do fine with that contract.
Savard logged big minutes last season due to a dearth of veterans on the back end.  He's not an ideal top-pairing piece at this point of his career; a fourth or fifth role is where he's better suited.  That role for this price tag is a bit on the high side but as long as he stays healthy, it's a deal that they should be able to move if they want to.  Harris had a decent rookie campaign, establishing himself as a regular.  With only one full year under his belt, he was basically limited to a short-term second contract.  He'll need to show that he can produce a bit more if he wants to land a sizable raise when this agreement is up.
Allen was extended to give Montreal a capable veteran netminder to help them through the next phase of their rebuild.  However, he's coming off a tough year that saw him put up his worst showing statistically by a significant margin and is now one of the top-paid platoon options.  He'll need to show considerable improvement to have a shot at beating this price point in 2025.
Signed Through 2025-26
F Kirby Dach ($3.363MM, RFA)
D Michael Matheson ($4.875MM, UFA)
G Carey Price ($10.5MM, UFA)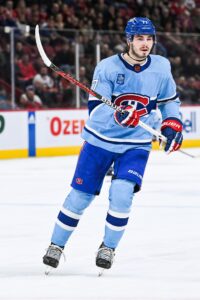 GM Kent Hughes paid a fairly big price to land Dach at the 2022 draft in a move that was surprising on both fronts – Montreal, a rebuilding team, moving multiple assets to add a player and Chicago, another rebuilding team, giving up on Dach so quickly.  The early returns were promising for the Canadiens as Dach locked down a top-six spot, splitting time between center and the wing while having a career year despite missing 24 games due to injuries.  Still just 22, they're hoping that there's more to come offensively and if that happens, the Canadiens will get a strong return on this contract fairly quickly.  Notably, the deal is structured so that Dach will be owed a $4MM qualifying offer with arbitration rights in 2026 so a raise will be on the horizon.
Matheson's career has featured some ups and downs so far.  Back with Florida, this contract looked like a bargain, then a negative-value contract soon after.  He rebuilt some value in Pittsburgh but found another gear with Montreal.  Their young back end pressed him into a true number one role and, when healthy, he made the most of it as an all-situations player.  While he's not a number one option in terms of talent, the Canadiens will get great value on this deal if he continues to have success in that spot.
Price's playing days are over and he will remain on LTIR for the next three seasons.  While his contract is somewhat limiting in terms of forcing them into LTIR (meaning bonus carryover penalties), it's a tenable situation for them to work within.  Notably, he's still owed $17MM in total compensation which will make it difficult to move, unlike certain back-diving contracts that have moved (largely to Arizona) in recent years.
Signed Through 2026-27 Or Longer
F Josh Anderson ($5.5MM through 2026-27)
F Cole Caufield ($7.85MM through 2030-31)
F Brendan Gallagher ($6.5MM through 2026-27)
F Alex Newhook ($2.9MM through 2026-27, RFA)
F Nick Suzuki ($7.875MM through 2029-30)
Suzuki quickly became Montreal's top center, giving them at least some stability at a position that they haven't had a lot of reliability at in a while.  He's not a true number one at this point of his career and while there is still room for improvement at just 24, he's unlikely to be a top-end producer.  Even so, he's not being paid like one on this contract so if he settles in as a 70-point player with some defensive improvement over time, they'll do okay with this deal.
Caufield has shown himself to be a capable scorer over the last year and a half when he has been able to stay healthy.  But staying in the lineup last season was tough as shoulder surgery ended his season prematurely.  Despite that, the Canadiens opted to take a big swing and skip the bridge deal, believing that there could be 40-goal upside when all is said and done.  They'll need to get close to that consistently to get good value on this deal.  They're not getting good value on Gallagher anymore.  After he was a bargain on his last six-year contract, the opposite has occurred here as he has slowed down offensively while battling injuries himself.  It's hard to see him producing anywhere near enough moving forward to provide a good return on that contract.
Anderson is one of the beneficiaries of the power forward premium.  He has hovered around 20 goals the last two seasons and, on the surface, that much money for that little production would seem like an overpayment.  But with the dearth of top-six power forwards out there, there's a reasonable chance he'd make that money if he was on the open market next summer.  Hughes is attempting to recreate his early success with Dach on Newhook.  An underachieving recent first-round pick, a four-year deal that preserves RFA eligibility, and what's likely to be a bigger role.  If he can secure a spot in the top six, this contract should provide a fair bit of value for them.
Buyouts
D Karl Alzner ($833K in 2023-24)
Retained Salary Transactions
D Joel Edmundson ($1.75MM in 2023-24)
D Jeff Petry ($2.343MM through 2024-25)
Still To Sign
None
Best Value: Montembeault
Worst Value: Gallagher
Looking Ahead
Earlier this summer, Hughes expressed a desire to get out of needing offseason LTIR which means they'd need to get below the $83.5MM cap with Price's contract counting toward their total; Price would then go on in-season LTIR.  That's not an impossible task as they have more players than roster spots available but it won't be easy.  Even if they are able to accomplish that objective, they'll still be limited to what's left of Price's LTIR after recalls and will face another bonus carryover penalty next season.
Other than Montembeault and perhaps Monahan, there aren't many significant raises pending this offseason and if Montreal is willing to go into offseason LTIR at that time, they'll have an ability to be a bit more aggressive on the spending front to try to add an impact piece.  But while Hughes has been able to slowly able to open up a bit more cap flexibility, he still has a fair bit of work to do to move some above-market contracts off the books.
Photos courtesy of USA Today Sports Images.