With training camps now less than a week away, there was a bit of an uptick in activity around the NHL.  As always, we recap the biggest news in our key stories.
Third Time's A Charm? Things didn't go particularly well the first two times the NHL set up shop in Atlanta.  Despite that, the league appears to be open to the idea of giving that market another opportunity should they decide to expand beyond 32 teams.  Deputy Commissioner Bill Daly feels that the demographics in Atlanta have changed enough since the Thrashers left in 2011 and that a better-placed arena could give that market an opportunity to succeed the next time around.  Despite this, expansion isn't believed to be at the top of the priority list for the league right now but when the time comes, it might be a familiar city that gets another chance.
Latest Round Of PTOs: As expected, there was another sizable batch of veteran players accepting training camp tryout offers in the hopes of eventually landing a guaranteed contract for the upcoming season.  Adam Erne will look to catch on with Edmonton while Zach Aston-Reese is one of many tryouts in Carolina.  The Ritchie brothers inked tryout agreements on the same day; Nick Ritchie is heading to St. Louis while Brett Ritchie will look to crack Florida's roster.  Josh Bailey was linked to Ottawa earlier this summer and is indeed now taking part in their camp while defenseman Olli Juolevi is one of many players getting an opportunity with Arizona.  Dozens of PTOs have been signed around the league and there are still more to come.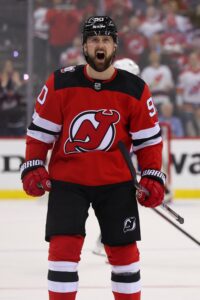 Tatar To Colorado: It was a busy summer for Avalanche GM Chris MacFarland as he had already brought in five new forwards to his group.  Make that six now as Colorado signed winger Tomas Tatar to a one-year, $1.5MM deal.  It's a considerable pay cut for the 32-year-old who made $4.5MM in each of the last two years and $5.3MM for the four before that.  Tatar is actually coming off a pretty good season in New Jersey, one that saw him record 20 goals and 28 assists although he struggled considerably in the playoffs, managing just a single point in 12 games.  Tatar adds to what should be an interesting battle on the left side in training camp with Gabriel Landeskog out for the regular season (but returning for the playoffs is a possibility).
Wright AHL-Eligible: It was looking like Kraken center Shane Wright was going to be facing another year of either playing in the NHL or returning to major junior.  However, that's no longer the case as the NHL and OHL has granted Wright an exemption that allows him to suit up with AHL Coachella Valley this season if Seattle elects to send him down.  CHL players are typically ineligible to play in the minors unless they are 20 years old on or before December 31st and Wright doesn't turn 20 until January 5th.  The other way to get out of that situation is to play four CHL seasons.  Wright wasn't able to do so as the OHL didn't play at all in the 2020-21 campaign.  However, they've basically decided that since he would have done so had the league taken to the ice, they'll grant him the year of service time, enabling him to become AHL-eligible this season.  That's an ideal outcome for one of Seattle's top prospects.
Coaching Change In Columbus: Mike Babcock's tenure as head coach in Columbus is already over before he stepped behind the bench for a single game.  Following a joint NHL/NHLPA investigation spurred by allegations that Babcock asked to view phones and/or photographs of several Blue Jackets players, it was mutually decided that Babcock would resign.  Babcock had been out of the league since 2019 and after what transpired here, it would be surprising to see him back behind an NHL bench.  Meanwhile, Columbus has looked to an internal candidate to take over, promoting associate coach Pascal Vincent to the top job while giving him a new two-year deal.  Vincent has seven years of NHL coaching experience between Columbus and Winnipeg but this will be his first time as the head coach at the top level.
Photo courtesy of USA Today Sports Images.