The Ottawa Senators have signed veteran forward Josh Bailey to a PTO, the team announced today.
This signing marks the first time in Bailey's professional career that he'll be part of an NHL organization other than the New York Islanders. The 33-year-old was drafted by New York with the ninth-overall pick at the 2008 NHL draft and has played over 1,000 games for the franchise. In his time with the Islanders, he helped end the team's 23-year wait without a single playoff series win.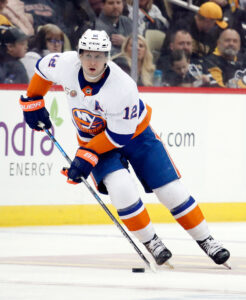 He became a dependable top-six forward in New York, and in his best years (just after his career-high 71-point 2017-18 season) he helped turn the Islanders into a regular season and playoff juggernaut in the aftermath of franchise face John Tavares' free agency departure.
Bailey's playoff performances helped the Islanders come within a razor-thin margin away from the Stanley Cup Final in back-to-back years. He scored a combined 33 points in 41 games across those two runs, by far the best playoff performances of his career.
Just one year ago, Bailey was still widely viewed as a strong middle-six forward. He scored 14 goals and 44 points in 2021-22, but this past season his play declined. He scored just eight goals and 25 points and was at times kept in the press box as a healthy scratch by first-year head coach Lane Lambert.
Seeing as Bailey has signed a PTO rather than a full-time NHL contract, it appears NHL teams may collectively view Bailey's decline as not a momentary lapse of form, but rather a sign of things to come for his career. The Senators are hoping Bailey will prove them otherwise, and he'll have the chance to do just that in Ottawa during the training camp and preseason process.
On paper, Bailey stands a decent chance of earning an NHL deal in Ottawa just by virtue of the fact that he has significantly more experience than most players slated to play in the team's bottom six.
He'll be competing for a role on the wing against players such as Zack MacEwen, Jiri Smejkal, Parker Kelly, Egor Sokolov, Ridly Greig, Roby Jarventie, and Matthew Highmore. Bailey has more NHL experience than that group of players has combined, so if head coach D.J. Smith wants a veteran player in his bottom six, Bailey could be his best option.
Photos courtesy of USA Today Sports Images