The Colorado Avalanche have taken one of the best remaining free agents off the market. They've signed veteran forward Tomáš Tatar to a one-year contract.
Sportsnet's Elliotte Friedman reports that Tatar's one-year deal is worth $1.5MM. CapFriendly has added that the deal is $1.5MM exclusively in base salary, and does not include any form of trade protection.
Avalanche GM Chris MacFarland issued the following statement regarding Tatar's signing:
Tomas has been a consistent, productive player throughout his NHL career. He is a veteran winger who brings scoring depth to our middle six and can contribute at both ends of the ice.  We are excited to have him under contract for this season.
On one hand, it's certainly surprising to see a player like Tatar wait so long to receive a contract, and receive a contract at a $1.5MM AAV. Tatar is, after all, one of the NHL's more consistent regular-season goal scorers.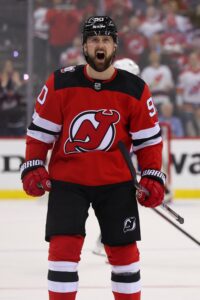 Tatar has crossed the 20-goal plateau seven times in his career, and at certain times has posted the numbers of a top-line scorer. In 2019-20, Tatar led the Montreal Canadiens in scoring with 61 points in 68 games, a 74-point pace.
He's been a consistent first or second-line scorer throughout his NHL career, and isn't even coming off of a poor season, as he scored 20 goals and 48 points in 2022-23.
But as NHL teams place more of a priority on players who can bring them playoff success, the biggest red flag on Tatar's resume has to have been the single greatest reason he's languished on the market so long.
At this point in Tatar's career, there's no mistaking what he is. He's a high-quality, consistent scorer in the regular season who is all but certain to almost disappear come playoff time. Tatar has just 13 points in 52 career postseason games. Twice, Tatar's team has left him a frequent healthy scratch en route to the Stanley Cup Final.
On a consistent basis, NHL teams have found Tatar's playoff struggles so severe that they're forced to simply sit him in the press box rather than hope that he can suddenly find a scoring touch. With that in mind, it becomes a little less surprising that Tatar has waited so long to receive a deal.
At a $1.5MM cap hit, though, those playoff concerns are far less important. Regardless of how he'll fare in the postseason, the Avalanche are receiving a consistent 20-goal threat at a cap hit lower than what many teams pay their fourth-line centers.
Tatar stands a really strong chance at providing the Avalanche with a lot of surplus value on his cap hit, and the $1.5MM cap hit minimizes the downside risk of this investment should Tatar once again falter in the playoffs.
So while Tatar certainly has his critics due to his postseason play, his regular-season value is undeniable. At a $1.5MM investment, this is a no-brainer signing for the Avalanche.
They add Tatar to an already impressive mix set of scoring wingers, and should Tatar manage to win the left-wing job on the team's first line (beating out three of his former teammates in Artturi Lehkonen, Miles Wood, and Jonathan Drouin for the job) he could even have a chance for a career year.
Photos courtesy of USA Today Sports Images