The Philadelphia Flyers have had their moments over the past decade-plus, but even throughout their periods of championship contention recently, the team has lacked an elite, long-term starting netminder. Steve Mason, who played just four full seasons in a Flyers uniform from 2013 to 2017, was the closest thing they had to one since the new millennium.
Even during their most recent Stanley Cup Final appearance in 2010, goaltending was their major weakness. They were backstopped by a tandem of Brian Boucher and Michael Leighton, neither of whom had any recent or successful experience as a true starter. They've likely found their next one in 25-year-old Carter Hart, who already sits ninth all-time in wins in franchise history despite playing just five seasons for the Flyers during a period of mediocrity.
Behind Hart, though, new general manager Daniel Brière has made a number of interesting moves to fill out the team's goalie depth. They arguably have a four-way battle for the backup job heading into next season, although some options are likelier than others. Two players split the backup role for them last season – Felix Sandström and Samuel Ersson, the latter of whom played less but posted far better numbers with a 6-3-0 record and .899 save percentage compared to Sandström's abysmal .880 mark.
The Flyers are just a handful of years removed from the 2018-19 campaign, where they set an NHL record for most goalies used in a season with eight. Hart, Brian Elliott, Anthony Stolarz, Calvin Pickard, Cam Talbot, Michal Neuvirth, Mike McKenna, and Alex Lyon all got some action in the crease in a Philadelphia jersey that season. Next season, they hope someone impresses enough (and stays healthy enough) to break out and bring that number back down to two.
Now, it's time to see who exactly that could be:
Samuel Ersson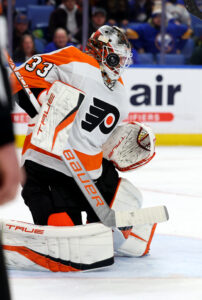 The Flyers think (hope?) they have a late-round gem in Ersson, who they selected 143rd overall in the 2018 NHL Draft. The 23-year-old made his NHL debut just last season and also took over the starting role for the AHL's Lehigh Valley Phantoms, recording a .900 save percentage and 2.87 goals-against average in 42 games. It was a huge rebound campaign for him after injuries limited him to just five appearances with Lehigh Valley in 2021-22. The team obviously believes in him, handing him a two-year, $2.9MM extension earlier this month set to start in the 2024-25 season.
Of all the names here, Ersson's the one the Flyers hope commands the backup role come opening night and, ideally, remains in the NHL by the time the 2023-24 season draws to a close. He is still waiver-exempt and isn't terribly close to requiring them, either. He needs to play 48 more NHL games (or two more NHL seasons, whichever comes first) before he'll need to clear waivers to head to the minors, per CapFriendly. That being said, from an asset management standpoint, Sandström does require waivers and is a potential claim candidate. Ersson will need to clearly demonstrate Sandström is potentially expendable from the organization with a strong camp.
Ivan Fedotov
There is a fair amount of intrigue in Fedotov's on-ice potential. The question looms, however, if he'll actually be at training camp. The IIHF sided with Philadelphia regarding a contract dispute between them, Fedotov and KHL club CSKA Moskva after Fedotov had two technically active contracts for 2023-24. CSKA and the KHL are likely to appeal the ruling, however, and it's unclear whether Fedotov will travel to the United States and suit up for the Flyers.
Fedotov didn't play at all last season after completing required military service in Russia, an unforeseen complication that occurred after the Flyers had signed him to an entry-level contract and penciled him into their backup role last season. Given the murky contractual situation and the breakout of Ersson, however, he's lost the edge on the role. There's no denying he's the highest-ceiling option available, however. The 26-year-old stands at an absolutely massive 6-foot-8 and 212 pounds and won the KHL's Best Goaltender award, an All-Star team nod, a Gagarin Cup championship, and an Olympic silver medal – all during the 2021-22 season. The year prior, he still posted spectacular numbers, recording a .925 save percentage in 26 games with CSKA.
Cal Petersen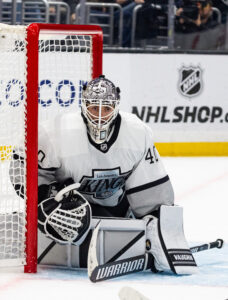 The Flyers acquired Petersen, 28, via trade from the Los Angeles Kings to provide some cap relief in the three-way deal that sent Ivan Provorov to Columbus. Briefly viewed as Los Angeles' long-term goalie option post-Jonathan Quick, Petersen had a disastrous 2022-23 campaign which saw him post a .868 save percentage in nine starts before the Kings waived him (and his $5MM cap hit) and assigned him to the AHL.
With two years remaining on his deal, Petersen hasn't looked like himself since posting a 9-18-5 record but a sparkling .911 save percentage and 2.89 goals-against average for the Kings in 2020-21. He's the most experienced option available to the Flyers for the backup role with 94 NHL starts under his belt, and he may enter next season with some renewed confidence after a strong performance for the United States at the World Championships. That being said, he's a non-candidate to get claimed on waivers given his albatross contract, and he'll need to significantly outplay the trio of younger, higher-upside netminders here in order to return to a full-time NHL role in a Flyers uniform.
Felix Sandström
Selected 70th overall in 2015, Sandström didn't take the step forward that Philadelphia wished he would have last season. The 26-year-old started the season as Hart's backup but won just three out of 18 starts, posting poor advanced and standard stats in the process. He has posted good enough numbers when given the chance in the minors, but he hasn't shown anything at the NHL level to suggest it can translate.
That being said, he's still relatively young in goalie years at 26, and if he shows enough strides in camp, it could be enough to earn him the nod over Ersson (or Fedotov) to avoid exposing him to waivers or to make the Flyers consider carrying three netminders. Either way, he likely won't receive more than the 20 games he played overall for the Flyers last season, save for a significant injury to Hart.
Photos courtesy of USA Today Sports Images.