Following up on reports from earlier in the month, Boston Bruins center David Krejci officially announced his retirement this morning via a statement issued on the team's Twitter/X account. With Krejci confirming the news, 2023-24 marks the first time neither Krejci nor Patrice Bergeron will be in the Bruins' lineup since 2005-06.
He didn't specifically say he was retiring from hockey in general, just the NHL. It means a return to play in the Czech Extraliga as he did in 2021-22 is still possible but not a given. What's clear is that as the 37-year-old steps away from the Bruins for a second time, a return is no longer in the cards. He'll retire with the fourth-most points from the 2004 NHL Draft class after being selected 63rd overall by the Bruins, trailing only Alex Ovechkin, Evgeni Malkin and Blake Wheeler, who were all selected in the top five.
After coming to North America and playing two seasons of junior hockey with the QMJHL's Gatineau Olympiques post-draft, Krejci got his first taste of NHL action with a six-game stint in 2006-07 after lighting up the AHL for 74 points in 69 games during his first pro season. He made the team out of camp the following season but was demoted back to AHL Providence in early November after recording three assists through his first 12 games. Krejci again dominated in the minors, posting 28 points in his next 25 games, leading to another call-up to the Bruins at the end of December 2007. He never looked back.
While it wasn't technically his rookie season, as he played 56 games in 2007-08, 2008-09 was Krejci's first campaign without an AHL assignment. He immediately burst onto the scene along with the rest of the team. At 22 years old, Krejci finished second on the team behind Marc Savard in assists (51) and points (73) while leading the team with a +37 rating, a campaign good enough to place him sixth in Selke Trophy voting. It was a statement season for the Bruins, who posted 116 points en route to their best regular season since the mid-1970s and entered a long, fruitful era of relatively consistent Stanley Cup contention with Krejci and Bergeron locked in down the middle. The breakout lined up with the end of his entry-level contract, and then-GM Peter Chiarelli rewarded him with a three-year, $3.75MM AAV bridge deal (equivalent to a $5.52MM AAV with today's salary cap).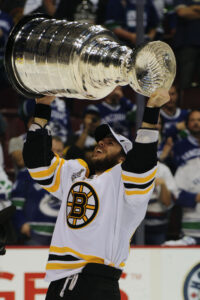 Krejci never won any individual accolades over the following 13 seasons, but he did become one of the most consistent players in the league. Save for lockouts and injury-shortened campaigns, Krejci produced at a clip of at least 50 points per year over an 82-game season for the remainder of his career. His crowning achievement, however, is undoubtedly his performance in the Bruins' runs to the 2011 and 2013 Stanley Cup Finals. Winning in 2011, he led the league in playoff scoring with 12 goals and 23 points in 25 games but fell short of winning the Conn Smythe Trophy thanks to goalie Tim Thomas' heroics (.940 SV%, 1.98 GAA, 4 SO). He followed that up again by leading the league with 17 assists and 26 points in 22 playoff games in 2013, but the Bruins fell short to the Chicago Blackhawks in dramatic fashion in Game 6, conceding two goals in the final 1:16 of the game at home.
After another bridge deal from Chiarelli in 2011 to keep him in Boston through 2014-15, Chiarelli signed Krejci to a contract extension for the third time in 2014. This time, he gave him a six-year, $7.25MM AAV deal that gave the Czech center his biggest payday and kept him from hitting unrestricted free agency the following summer. It was after that deal expired in 2021 that Krejci somewhat unexpectedly took time away from the league, returning home at age 35 on a one-year deal with HC Olomouc and recording 20 goals, 26 assists and 46 points in 51 games. He didn't achieve his goal of winning a league championship with Olomouc, but he did record 12 points in ten games for Czechia at the World Championship en route to a bronze medal.
He returned to Boston last season on a one-year, bonus-laden deal worth $3MM with a cap hit of just $1MM. In doing so, he spent the final season of his career playing a pivotal role on the best regular-season team in NHL history. Holding down the second-line center spot behind Bergeron as he had for so many years, his line with Pavel Zacha and David Pastrnak was key to Boston's success. They played the most minutes together of any three-man unit for the Bruins (444 minutes, per MoneyPuck), and Krejci notched 16 goals and 40 assists for 56 points in 70 games in his final season wearing a black and gold sweater. Reunited with a pair of Czechs, the Bruins finally gave Krejci the support on the wings he'd deserved – a move that paid off as Pastrnak exploded for his first 60-goal campaign.
Krejci completes his NHL career with 231 goals, 555 assists and 786 points in 1,032 games. He added a career +166 rating, 43 game-winning goals, 53.1% Corsi for at even strength, and averaged 17:50 per game. He sits fifth in Bruins history in games played, trailing only Bergeron, Don Sweeney, Johnny Bucyk, and Ray Bourque. He also ends his career as fifth in assists as a Bruin and ninth in points.
PHR congratulates Krejci on a legendary and successful stint as a core player for an Original Six franchise – something that may very well earn him Hall of Fame consideration in the coming years.
Photo courtesy of USA Today Sports Images.