Free agency is less than a month away and teams are looking ahead to when it opens.  There will be several impact players set to hit the open market in July while many teams have key restricted free agents to re-sign as well.  We continue our look around the NHL with an overview of the free agent situation for the Penguins.
Key Restricted Free Agents
F Drew O'Connor – O'Connor finally established himself as a full time NHLer last season after struggling to do so the two previous years. While his five goals and six assists in 46 games hardly knocked down the door, his play away from the puck was very strong. His ability to get around the ice plays very well in head coach Mike Sullivan's up-tempo system.
O'Connor began last season in the AHL because of the Penguins salary cap issues but was quickly called up to begin the year. His AHL numbers were terrific as he was able to put up 22 points in 20 games and dominated large stretches of these games by utilizing his strong first step and large frame. Last month at the International Ice Hockey Federation (IIHF) World Championship O'Connor found himself centering the second line of the United States team and was able to show some offensive prowess as he put up eight points in 10 games.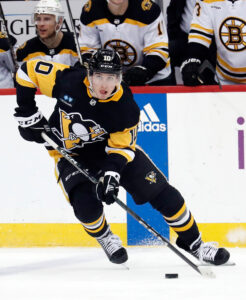 If O'Connor can find more of an edge to his game, he could be an effective bottom six forward with a power element. He will likely be looking at a one or a two-year deal at around the NHL minimum as he tries to continue to establish himself as an NHL regular.
F Ryan Poehling – Poehling battled a lot of injuries this past season and it created a lost season for the 24-year-old who came over to Pittsburgh from the Montreal Canadiens in the Jeff Petry/Mike Matheson trade last summer. Not much attention was paid to Poehling, but he was one of the few bright spots in Pittsburgh's bottom six forward group. Poehling put up seven goals and seven assists in 53 games, and while those numbers are pedestrian, he did that in less than 12 minutes of ice time per game and spent nearly 1/3 of his ice time killing penalties.
Overall, there is a lot to like about Poehling's game especially given that he will likely be playing on a cap hit that is less than $1MM.
D Ty Smith – Smith was in the unfortunate position of being forced into the AHL by a salary cap squeeze.  He spent most of the season in the AHL where he put up seven goals and 17 assists in 39 games. Those aren't bad numbers but given that former general manager Ron Hextall acquired Smith for John Marino, his numbers leave a lot to be desired. Smith did have a cup of coffee in Pittsburgh drawing into nine games in the NHL where he put up a goal and three assists while struggling in the defensive zone.
As it stands right now Smith will need a new contract and should start the year with the big club. The Penguins currently have a hole on the line side of their defense and could look to Smith to occupy a spot on their bottom pairing. He is still a very capable puck moving defenseman and given the fact that he is just 23 years old his best hockey is likely in front of him. Smith will probably get a two-year bridge deal for around $800K.
Key Unrestricted Free Agents
G Tristan Jarry – Tristan Jarry had arguably the worst season of his career at the most inopportune time. Jarry battled inconsistencies and injuries throughout the year and never seemed to find his footing after suffering an injury at the outdoor game in Boston. He did battle until the end of the year but couldn't find enough consistency in his game to will the Penguins into the playoffs. Jarry went 24-13-7 on the year with a .909 save percentage and a 2.90 goals against average.
Despite his poor showing last season, he is still likely the best available option on the open market. Given his positioning it has been rumored in Pittsburgh that Jarry is looking for a contract in the range of six years with an average annual value of $6MM. The Penguins would be wise to avoid that kind of a commitment for a goaltender who has been unable to provide consistent goaltending from one year to the next.
D Brian Dumoulin – Dumoulin was a lightning rod for criticism early in the season and rightfully so, he was abysmal in November and December and was continuously put in high leverage situations despite his obvious struggles. Eventually he was demoted from the top pairing to the third pairing, and he began to find some semblance of his game as the year went on. Dumoulin was substantially better towards the end of the year, but he was still just a shell of his former self. Despite these issues, Dumoulin put up a career high 25 points and dressed in all 82 games for the first time in his career.
His free agency will be fascinating to watch as he was largely viewed by the fans in Pittsburgh as a big reason why the team couldn't find any traction. Despite this, it is very possible an NHL team will look as his pedigree and deem him the perfect veteran compliment to a young defensive core. For this reason, it wouldn't be surprising to see Dumoulin sign a two- or three-year contract for around $3MM annually.
F Jason Zucker – Zucker struggled with injuries and poor play during his first few years in Pittsburgh. Despite these issues he still was the heart and soul of the Penguins and one of the few forwards in Pittsburgh who was willing to engage the opponent physically. Zucker had the second-best season of his career notching 27 goals and 21 assists in 78 games while sometimes being the only spark the Penguins could find as they were falling out of playoff contention.
His free agency will also be quite interesting because he does have a history of being an inspiring player who can pick up his teammates, but on the other side of things he is injury prone and can't drive a line. Zucker's ask will likely be in the $5MM-$6MM range per season on a three or a four-year contract. Pittsburgh would be wise to avoid that kind of commitment but given that the team will likely be a lottery team in a few years, they might not care about the term if they can secure the player for the last few years of the Sidney Crosby/Evgeni Malkin era.
Other UFAs: F Josh Archibald, F Nick Bonino, F Danton Heinen, D Dmitry Kulikov
Projected Cap Space
Kyle Dubas was hired in Pittsburgh to get the Penguins aging core back into Stanley Cup contention. It's a tall task given the state of the Penguins roster as currently constructed. While the team had some obvious flaws last season, there is enough cap space and flexibility available to make some significant changes. Dubas will have just over $20MM in cap space this summer with 15 players already locked into NHL money. That may seem like plenty of room, but the Penguins have a glaring need in net that could eat up a third of that cap space. The team could free up significant room with a Mikael Granlund buyout and could also move on from expensive bottom pairing defenseman Jan Rutta.
The Penguins had one of the worst bottom six groups in the NHL last season and will likely look to use some of their additional cap space to improve in this area. Dubas has always been good at finding value and given where the Penguins are at he will need to work his magic once again this summer if Pittsburgh is going to get back into the hunt for the Stanley Cup.
Photos courtesy of USA Today Sports Images.  Contract information courtesy of CapFriendly.