Free agency is a month away and teams are looking ahead to when it opens.  There will be several impact players set to hit the open market in July while many teams have key restricted free agents to re-sign as well.  We continue our look around the NHL with an overview of the free agent situation for the Edmonton Oilers.
Key Restricted Free Agents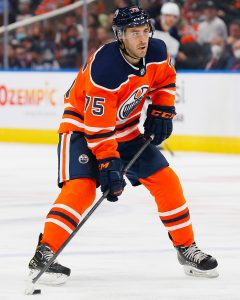 D Evan Bouchard – Bouchard is coming off back-to-back 40+ point seasons and was an absolute wrecking ball on the powerplay in the playoffs for the Oilers as he put up four goals and 13 assists in just 12 games. Now those numbers are staggering, however all but two of those points came with the man advantage.
If the Oilers had infinite cap space, they would likely prefer to get their budding offensive defenseman on a long-term contract, however given their cap constraints they will likely need to look at a bridge deal for 2-3 years. There are plenty of recent comparables for Bouchard with Noah Dobson being the most recent. A two-year deal with an average annual value around $4MM appears like the likeliest of outcomes for Bouchard this summer.
F Klim Kostin – Kostin was finally able to make an impact at the NHL level after several years of struggling to break through from the AHL. The former first round pick had never topped nine points in any NHL season prior to this past year with Edmonton, he settled into a bottom-6 role after coming over in a trade from the St. Louis Blues and was able to post 11 goals and 10 assists in 57 games. The intriguing thing about Kostin is his skill set, he is better suited for a role on a skill line but saw very little of that this year as he rarely played with Connor McDavid and saw just 17 minutes with Leon Draisaitl (in which he scored twice). Edmonton will have a full training camp with Kostin and could have an opportunity to try him on a skill line to see if they can find a fit for a player who will be on a miniscule cap number. Edmonton was apprehensive to try Kostin on the top lines this season due to his struggles away from the puck, but with nothing on the line to start the year, it'll be an experiment worth conducting. Kostin is likely due for a one-year contract that will be around $1MM.
C Ryan McLeod – McLeod has topped 20 points in back-to-back seasons while toiling away in the Oilers bottom six. He is a former second-round pick who was one of the few Oilers in the bottom six who could move the puck with both speed and purpose. While he is strong with the puck his defensive metrics leave a bit to be desired. McLeod is young and is likely just scratching the surface of what he could be for Edmonton long term. He is arbitration eligible this summer meaning that McLeod will have some leverage when it comes to his contract negotiations. He is coming off a season in which he posted 11 goals and 12 assists in 57 games so he won't break the bank, however his next contract could eat into 1/3 of Edmonton's remaining cap space.
Other RFAs: F Raphael Lavoie, F Noah Philp, G Olivier Rodrigue
Key Unrestricted Free Agents
F Nick Bjugstad – Bjugstad came over to the Oilers before the trade deadline and was just okay. He put up six points in 18 regular season games with the club and followed it up with three goals in 12 playoff games as the Oilers were dropped in the second round. This is the third time Bjugstad will test free agency in the past three years, but the first time he will do so coming off a season in which he topped 20 points. Bjugstad once looked like he would develop into a power forward but has never been able to assert himself in that way. He is a good bottom six option at this point in his career but likely one that has priced himself out of Edmonton's plans.
C Derek Ryan – Ryan played admirably for the Oilers this season as their fourth line center putting up 13 goals and seven assists in 80 games. While it was a drop off in numbers from the year prior, Ryan was still a big part of a much-improved bottom six for Edmonton. Ryan is undersized and at 36 years old his best games are likely behind him, however if he's willing to come back at a cap hit that is comparable to the $1.25MM he made last season, it is something the Oilers should explore. Ryan can still kill penalties and take a lot of the defensive zone draws, and if he can continue to chip in the odd goal it would be worth the minimal investment.
F Mattias Janmark – It feels like Janmark has been in the league forever but the Stockholm, Sweden native is just 30 years old. Janmark signed a one-year deal with Edmonton last summer and provided decent value on a $1.25MM AAV as he put up 10 goals and 15 assists in 66 games. Those kinds of numbers have been typical for Janmark as he has put up between 21-25 points in five straight seasons. At this point Janmark is what he is, a depth forward who can chip in offence from time to time.  Janmark will likely seek a comparable contract this offseason but given Edmonton's cap constraints they may look elsewhere to see if they can find better value.
Other UFAs: F Justin Bailey, F Tyler Benson, D Jason Demers, D Slater Koekkoek, D Oscar Klefbom, F Devin Shore, D Ryan Murray, G Mike Smith
Projected Cap Space
Edmonton has precious little cap room to fill out their roster as they currently have just under $6MM in space and 17 players signed for next season. Filling out their roster with quality players is going to be difficult and as evidenced in the playoffs, this is a flawed hockey team that needs to upgrade in several key positions. Ken Holland has said he will return to the helm for their final season of his contract, and it may be his final kick at the can since he has been unable to get the Oilers over the hump and they have many of the same shortcomings they had when he took over the club four years ago.
The club has committed big money to Connor McDavid and Leon Draisaitl but both men are still playing on favorable contracts given their talent level. The Oilers have them locked up for a few more seasons but they are running out of time to build a Stanley Cup contender despite having two of the best players in the world.  The Oilers will need to make good use of their limited cap space and in a perfect world would be able to shed a bad contract or two. It's going to be a busy summer in Edmonton as they look to regroup after another disappointing playoff exit.
 Photo courtesy of USA Today Sports Images.  Contract information courtesy of CapFriendly.