The offseason has arrived for half of the league's teams that aren't taking part in the playoffs plus those that were eliminated early.  It's time to examine what they will need to accomplish over the coming months.  Next up is a look at Vancouver.
After the team showed considerable improvement late in 2021-22 under Bruce Boudreau, there was hope that the Canucks could get back into the playoff picture.  Instead, things went off the rails quickly with a long-speculated coaching change dominating the headlines for an uncomfortable amount of time.  While there was improvement following the change that saw Rick Tocchet take over, they still came up short.  GM Patrik Allvin has his work cut out for him this summer if he wants to get Vancouver back into the playoff picture.
Create Cap Space
If Allvin and the Canucks are going to be able to do anything in terms of improving this franchise this summer, they need money to do so.  At the moment, they are projected to be over the cap next season, per CapFriendly, with multiple players still to re-sign.  That's not ideal, to put it lightly.
There could be some help through LTIR.  Tanner Pearson's playing future appears to be in serious question after recovery from his hand injury hasn't gone anywhere near as well as planned.  If he misses all of next season, his $3.25MM would then land on LTIR.  Then there's Tucker Poolman, who has dealt with lingering concussion trouble for the last couple of seasons and got into just three games this year.  If those symptoms persist, his $2.5MM could land on there as well.  Those two placements would at least give them enough cap space to fill out a full roster but still not make any material improvements.
Winger Brock Boeser has been in trade speculation for more than a year now and even though he has stated that his desire is to remain in Vancouver, that's unlikely to change with a $6.65MM AAV for two more years.  Daily Faceoff's Frank Seravalli recently reported (video link) that the team is actively trying to move Conor Garland who carries a $4.95MM cap charge for three more seasons.  While he's a quality forward, the remaining term on that deal will hurt his value.  Moving one of them would clear up some money plus a full-time spot for Nils Hoglander but Vancouver will be hard-pressed to get strong value in a return with how tight many teams are cap-wise.
Defensively, Tyler Myers and his $6MM price tag is one that could be on the chopping block.  Notably, the bulk of his deal is paid out in a signing bonus during training camp and it stands to reason that he'd have more value then than he would today.  Of course, that doesn't help in terms of creating space for early-summer spending but it's another avenue they could potentially pursue.
There are holes on this roster to be filled.  But to fill them, they need cap space.  To get that money, they're going to have to move out a player of some significance, thereby creating another hole to fill.  That's going to be a tough needle to thread.
Work On Pettersson Extension
While some players underachieved offensively under Boudreau, that wasn't the case for Elias Pettersson who was off to a strong start before the coaching change, notching 19 goals and 35 assists in 44 games.  There might have been some concern that a coach that was interested in restoring some structure to Vancouver's game might cut down Pettersson's numbers.  That didn't happen.  Instead, he was even more productive in the second half, tallying 20 goals and 28 helpers in 36 games, allowing him to reach the 100-point mark for the first time in his career.  He was one of just 11 players league-wide to accomplish the feat.  In short, he has become a legitimate top-line center.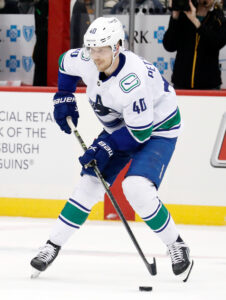 In 2021, on the heels of an injury-plagued platform year, the two sides eventually agreed on a three-year bridge deal, one that carried a $7.35MM AAV while being heavily backloaded.  The salary structure is notable as the relatively new qualifying offer rule applies to it; he's owed the lower of 120% of the AAV or $10.25MM, the 2023-24 salary.  120% of the cap charge is $8.82MM and if you're looking for a starting point for negotiations, there it is.
Realistically, the price tag is going to come in well above that, especially based on recent center signings including Islanders pivot Mathew Barzal who checks in at $9.15MM despite only passing the 65-point mark once in his career.  It's quite possible that a long-term agreement ultimately eclipses the $10MM mark.
There's a case to be made that Vancouver should wait until next year to see if Pettersson's production is repeatable.  However, the salary cap is expected to have a sharper increase in 2024 and with comparables often being based on the percentage of the cap it takes up, that could drive the asking price upward at that point along with his arbitration rights.  But, there's value in taking care of your franchise players quickly and having early certainty about what he'll cost moving forward can only help Allvin as he looks to reshape their cap picture.  Accordingly, expect them to take a run at extending Pettersson when he's eligible to sign a new deal in July.
Look Into Miller Move
The seven-year, $56MM contract extension that J.T. Miller signed back in September was supposed to take his name out of the rumor mill.  However, with the Canucks struggling considerably out of the gate, that wasn't the case as there was considerable speculation that he could be moved prior to the trade deadline.  While that didn't happen, it wouldn't be surprising to see his name come up once again, especially if they fail to find a suitable cap-clearing trade for one of their other pieces.
However, it's important to note that there is a deadline for this to happen.  Included in the extension is a full no-move clause which kicks in on July 1st.  Vancouver could have allowed that NMC to roll over in his set-to-expire deal but opted not to.  While it's not impossible to move a player with trade protection, the options are certainly more plentiful when the player doesn't have any form of trade restrictions.
While Miller wasn't able to equal his 99-point output from a year ago, the 30-year-old still had a productive campaign, notching 32 goals while picking up 82 points in 81 games.  Add that to a career-best 55% success rate at the faceoff dot and you have a player that is producing at a level worthy of the $8MM AAV.  As a result, expect to see his name surface in trade speculation leading up to the draft as there should be some interest in him, especially with a free agent market that's lacking in quality middlemen.
Defensive Decisions
Vancouver has a couple of decisions to make with their pending restricted free agent blueliners.  Both Ethan Bear and Travis Dermott are arbitration-eligible this summer with arbitration eligibility.  Both of them have shown flashes at times but neither of them is a guarantee to be tendered.
Let's start with Bear, a player who has seemingly been on tenuous footing in recent years in Edmonton, Carolina, and now Vancouver.  The Canucks picked him up in an early-season trade and he helped to stabilize an injury-riddled back end.  However, the 25-year-old is best utilized in a limited role and a $2.2MM qualifying offer is on the pricey side for someone in that role, not to mention the granting of arbitration rights that the offer entails.  Given their cap situation, can they afford that offer and the risk of a hearing?  Bear has expressed confidence that he will get something done but it will be interesting to see if he winds up with a deal before the qualifying offer deadline to take the threat of a hearing off the table.
As for Dermott, he showed some upside in the past with Toronto but that hasn't carried over to his time with Vancouver.  Lingering concussion symptoms resulted in multiple IR stints and he played in just 11 games this season.  Dermott was the first player Allvin acquired after being named GM so it's clear he thinks Dermott can help this team.  But with a $1.75MM qualifier and arbitration rights, that seems too pricey for them.  That said, it wouldn't be surprising to see the Canucks try to work out a one-year deal worth less than that amount, allowing them to give the 26-year-old one more chance.
Vancouver also has a decision to make on pending UFA blueliner Kyle Burroughs.  The 27-year-old played in a career-best 48 games this season, picking up five points and 165 hits on the third pairing.  He fits in a depth role but it's possible that his fate is tied to Bear or Dermott's as they might not be able to keep all of them around.  As a result, Burroughs might have to wait a while to see if he'll be staying with his hometown team.
Photo courtesy of USA Today Sports Images.