While the number of teams still in contention for the Stanley Cup continues to be cut down, there was plenty of notable news away from the ice which is highlighted in our key stories.
Flyers Set Front Office: The Flyers have found their replacements for former GM Chuck Fletcher.  Daniel Briere has had the interim tag removed to become the full-time GM while long-time Flyer broadcaster Keith Jones takes over as President of Hockey Operations.  While Briere has some front office experience as an assistant, it will be Jones' first opportunity to work for a team.  Some had wondered if Philadelphia would opt for an experienced President to offset Briere's relative inexperience but clearly, that wasn't the case.  The two will be tasked with trying to get the Flyers out of the tough cycle they find themselves in as a team that has effectively spun its wheels in recent years and as a result, they could be heading for at least a short-term rebuild.
Suspensions: The fifth game of the Oilers-Golden Knights series was played without two key defensemen.  For Edmonton, Darnell Nurse had an automatic one-game ban upheld after being assessed an instigator penalty in the final five minutes of the game before.  Meanwhile, for Vegas, Alex Pietrangelo received a one-game suspension of his own for a slash on Edmonton forward Leon Draisaitl.  The common sentiment was that Pietrangelo's suspension was lighter than expected but both players returned to action on Sunday as the series continued.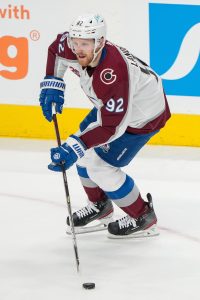 Landeskog To Miss 2023-24: Throughout this season, the Avalanche were hoping that they'd get captain Gabriel Landeskog back from his knee injury, so much so that they opted not to use all of his LTIR room at the trade deadline.  However, he was ruled out for the postseason before the playoffs began and now, he's expected to miss the entire 2023-24 campaign after undergoing cartilage replacement surgery, a procedure that is a substitute for a joint replacement.  That means that Colorado will be without one of their top wingers for two full seasons.  Landeskog and his $7MM cap charge will once again be LTIR-eligible next season and it's quite likely that the Avs will make full use of it this time around.  The 30-year-old is signed through the 2028-29 season.
Treliving Unable To Interview: After stepping away from the Flames, some have wondered if Brad Treliving could be in the mix for any of the open front office vacancies around the league.  However, that's unlikely to happen as he is reportedly unable to interview with other teams until his contract expires on June 30th.  Teams typically grant former coaches and executives permission to speak to other teams about positions while they're technically still under contract but once in a while, that doesn't happen.  It appears this is one of those times.
Blackhawks Win Draft Lottery: The Draft Lottery resulted in a change at the top of the draft order and it was the Blackhawks who were the winners, moving up from the second spot to first, placing them in a position to draft WHL superstar center Connor Bedard next month.  Bedard would immediately become Chicago's franchise player, giving them a foundational piece as they work through their rebuild.  Meanwhile, Anaheim, who went into the event with the top odds, won the draw for the second selection, positioning them to likely take Hobey Baker Award winner Adam Fantilli.
Photo courtesy of USA Today Sports Images.