New Jersey Devils general manager Tom Fitzgerald has achieved a crucial step in a long rebuilding process: a return to relevancy and a promising postseason showing. Now, he has to keep them there.
Considering the Devils have 13 expiring contracts on their NHL roster (not including injured goalie Jonathan Bernier), this offseason isn't just about staying the course for Fitzgerald and the Devils. The signings he makes this summer will largely dictate what the team's future holds as their spending, and eventually, the salary cap, increases.
There are no priority items this offseason larger for Fitzgerald than the team's most coveted restricted free agents: Jesper Bratt and Timo Meier. Speaking to reporters, including The Fourth Period's James Nichols, at the Devils' locker clean-out day yesterday, Fitzgerald offered updates on the status of Bratt's and Meier's pending extensions.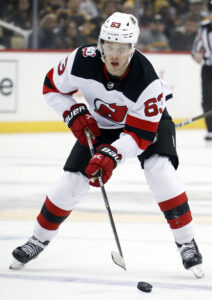 In regards to Bratt, Fitzgerald gave an expansive answer:
We paused the (extension) talks prior to the playoffs, which I think was the right thing to do. There was there's definitely progression. For sure. There's definitely a framework of a deal to be done long term if Jesper wants that. Jesper knows exactly what that framework looks like. I know Jesper wants to be a Devil long-term and so do we. He had a tremendous year. Nobody doubted he wouldn't. He's part of the fabric here, part of the core. We want to get this done. I don't anticipate contentious negotiation. I think his agent knows where we're at. So we'll probably put the ball back in his court and we'll touch base here soon. I haven't yet. Like I said earlier, this Game 5 loss is still fresh."
Coming off back-to-back 70-point seasons, contract talks surrounding the 24-year-old Bratt are much more positive than this time last season. He's a restricted free agent with arbitration rights for the second straight summer, eventually signing a one-year, $5.45MM deal in August 2022 after an arbitration filing.
His next cap hit is likely to come in well north of that and could easily hover near the $8MM mark on a long-term deal, which both Fitzgerald and Bratt allude to as a possibility. Regardless of the final cap hit, it doesn't appear the Devils and Bratt are likely to hit many snags in the road on their way toward an extension.
The vibes are different around a potential commitment for Meier, who wasn't as effective as the team hoped after acquiring him late in the season from the San Jose Sharks. The intrigue is still there – it's not often you have a free agent with three 30-goal seasons under his belt still under team control. But the 26-year-old will undoubtedly be looking for a hefty commitment, especially after posting near point-per-game numbers over the past two seasons on a struggling Sharks squad.
Fitzgerald said contract talks with Meier haven't begun in earnest yet but plans to touch base with Meier's agent, Claude Lemieux, about an extension after the team wraps up its pre-draft scouting meetings this week.
New Jersey will likely prioritize getting the framework for an extension finalized with Meier as soon as possible. If it comes to a worst-case scenario, Meier is due a qualifying offer of $10MM on a one-year contract, which would both dig into New Jersey's cap space next season and walk him right to unrestricted free agency in 2024.
Photo courtesy of USA Today Sports Images