The final rankings from NHL Central Scouting are out, and surprise, surprise, Connor Bedard is the top-ranked player for the 2023 draft. Bedard will almost certainly be the first-overall selection at this summer's draft. Central Scouting vice president Dan Marr says this about the talented forward:
Bedard has the elite skills and attributes that elite NHL players have, and it's the precision in which he reads the play, is always in the right place and how he executes and capitalizes on plays.

What places him in that Connor McDavid-special category is his natural presence of mind and instincts that allow him to channel all these attributes to dominate when the opportunity is there and when it's needed most by his team.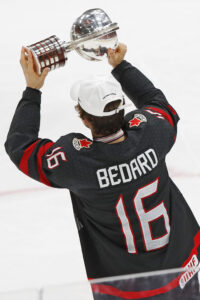 Second place goes to Adam Fantilli, as expected, who recently won the Hobey Baker as college hockey's top player. The 6'2″ power forward would lead the way in many draft classes, and will be a very nice consolation prize for the second lottery winner.
Notably, the North American list is dominated by forwards. The top-ranked defenseman, Lukas Dragicevic, doesn't appear until no. 18.
The top ten North America skaters are:
On the international side, Swedish center Leo Carlsson comes in at the top of the list, ahead of Russian sniper Matvei Michkov, whose path to the NHL is still unclear. The European group is much more positionally balanced, too, with three defensemen coming in the top ten, led by Swiss pro David Reinbacher.
The top ten international skaters are:
The NHL draft lottery will be held on May 8, with the Anaheim Ducks holding the best chance to land the first pick. The draft itself starts on June 28, with rounds 2-7 the following day.