Tyler Motte is back on Broadway. The New York Rangers have acquired the veteran forward from the Ottawa Senators in exchange for forward Julien Gauthier and a conditional 2023 seventh-round pick, per a team announcement.
The Senators have announced the conditions on the deal: if the Rangers win a playoff series in the 2023 Stanley Cup playoffs, the pick will improve to be the lower of the Rangers' two 2023 sixth-round picks. (The Rangers also own the Winnipeg Jets' sixth-rounder from last year's Andrew Copp trade)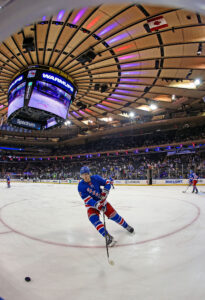 Senators GM Pierre Dorion gave the following statement regarding Gauthier, the centerpiece asset his team is receiving in this deal:
Julien Gauthier is a hard-working, good skating winger with a big body who routinely goes to the opponent's net. His north/south game should be a nice addition to our lineup.
Dorion's strategy with this trade mirrors how he approached the trade of Nick Paul last season. Rather than simply aim for the best draft pick possible, Dorion instead identified a player on the buying team's roster that he believes can contribute to the Senators immediately.
Last season, the team acquired pending restricted free agent Mathieu Joseph. This year, it's Gauthier, who is also a pending restricted free agent.
Both Motte and Gauthier have scored nine points this season, but for the Rangers this trade is about more than just scoring. After the acquisition of Vladimir Tarasenko from the St. Louis Blues, the Rangers' need for a scoring-line right winger was met. Their biggest need heading into the deadline became an upgrade to their fourth line, as they were relying on relatively unproven commodities such as Gauthier and Jake Leschyshyn.
Now, they've added a player who not only brings a different flavor to their fourth line than what Gauthier could provide, but also brings a more well-rounded game and valuable playoff experience. Gauthier has just three playoff games on his resume, while the 27-year-old Motte helped the Rangers to the Eastern Conference Final last season and got into 17 playoff games for the Vancouver Canucks in 2019-20.
Motte is the Senators' leading penalty-killing forward and should be able to help a Rangers penalty kill that at the moment ranks just 15th in the league. He's tenacious, always energetic, and a forward Rangers fans came to greatly appreciate despite his limited time on their roster. Both the New York market and head coach Gerard Gallant will surely be pleased that Motte is back in the fold.
For Ottawa, this trade is all about Gauthier. Motte got the Canucks a fourth-rounder in a trade last season, and while he's not quite having as good of a season as he had last year, it's hard to say that his decline alone causes his value to drop from a fourth-rounder all the way to a sixth or seventh-rounder.
Instead, this seems to be a case of Ottawa simply seeing something they like in Gauthier and preferring to add him to their roster over a slightly improved draft pick. The 25-year-old winger is, as Dorion noted, a player with size and strong skating ability. He's routinely attacking the net when he gets offensive chances, but his ability as a finisher leaves much to be desired.
While he showed flashes in New York of the talent that made him a 2016 first-round pick, he ultimately was not able to find the night-to-night consistency to earn the trust of David Quinn or Gallant. Now, Senators head coach D.J. Smith will get a chance to see if anything can be made out of Gauthier's impressive physical tools.
Pictures courtesy of USA Today Sports Images