One of the biggest names many have speculated would be dealt this trade deadline season has just been taken off the board. Daily Faceoff's Frank Seravalli reports that the Blackhawks and captain Jonathan Toews have "made a joint decision as he needs more time to recover from his latest illness," and that he "will not be moved prior to the NHL trade deadline."
Seravalli adds that "there does not appear to be any major long-term health concerns," and that it's possible Toews returns to the ice in March. But he noted that "out of fairness to other teams, Toews felt his body was not cooperating to compete at a high level right now," getting in the way of any possible trade to another club.
Toews confirmed the news in a statement. So as to not attempt to summarize the complex nature of Toews' health status, here is his statement in full:
First of all, thank you to the fans and all those who have shown concern about my absence. I'm still dealing with the symptoms of Long COVID and Chronic Immune Response Syndrome.

It has been really challenging to play through these symptoms. In the last few weeks, it has reached the point where I had no choice but to step back and concentrate on getting healthy. I am thankful for the patience and support of my teammates, the coaching staff, and the entire Blackhawks organization.
While the lack of depth in this season's trade market at the center position means that this development has a significant ripple effect across the league, the most important aspect of this announcement is Toews' own health.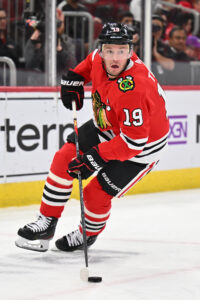 While has described medical issues that have impacted his ability to get on the ice, those same issues can also impact his day-to-day life away from the rink.
Ensuring he is taking all the necessary time away and devoting all the focus he needs to get his personal health in order seems to be Toews' top priority.
In June 2021, Toews opened up about his health to The Athletic's Mark Lazerus, detailing the confusion and frustration he dealt with away from the ice. (subscription link)
With this relatively small glimpse into what Toews has been battling with, Toews' on-ice performance becomes all the more impressive.
Meeting the physical rigors of NHL hockey alone is an achievement for any athlete, and the fact that Toews has been a quietly productive member of a weak Blackhawks squad is extremely impressive given these circumstances.
While Toews' on-ice future remains unclear, Seravalli did state the possibility that he could return to the ice as soon as in March. But given all that Toews has sacrificed and accomplished for the Blackhawks organization in his run of over 1,000 games for the franchise, it seems very likely that the Blackhawks will afford Toews all the time and freedom he needs to get his body in order, before even considering a return to the lineup.
What this means for the NHL more broadly is significant. The trade market for centers was already precariously thin, and after the trade of Ryan O'Reilly to Toronto Toews was poised to be the highest-quality player on the market. Now, with him on the board, teams in need of help down the middle will likely be hard-pressed to find a quality center other teams would be willing to deal.
With Toews now off the trade market, teammate Max Domi or injured Montreal Canadiens forward Sean Monahan could be the top options available for any team seeking to add a pivot before March 3rd, unless a team manages to pry a less obvious trade candidate away from his current team.
Pictures courtesy of USA Today Sports Images