The trade deadline is still a few weeks away, but the New York Rangers aren't waiting around. Vladimir Tarasenko and Niko Mikkola have been acquired from the St. Louis Blues in exchange for a conditional 2023 first-round pick, a conditional 2024 fourth-round pick, Sammy Blais, and Hunter Skinner. The Blues will retain 50% of Tarasenko's contract, which expires at the end of the season.
The first-round selection will be the later of the two the Rangers currently have (NYR and DAL). Since the Dallas pick is also top-10 protected from the Nils Lundkvist trade, if it moves to 2024, the Blues will receive the later of the two next year. The fourth will become a third-round pick if the Rangers make the playoffs this season.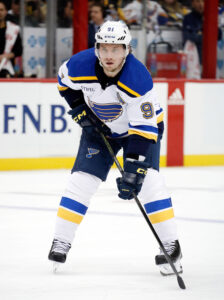 It's a significant return for the Blues, but likely still one that fans will be disappointed with. Tarasenko has been a favorite in St. Louis for more than a decade, and was a key part of the franchise's first (and only) Stanley Cup championship in 2019. The 31-year-old sniper has eclipsed the 30-goal mark in six different seasons, including last year when he came back from multiple shoulder injuries to post 34 goals and 82 points in 75 games.
This year hasn't gone quite as well, with just ten tallies and 29 points in 38 games for the big Russian, but he is still one of the most feared shooters in the league and should fit right in next to good friend Artemi Panarin in New York. The Rangers had been linked to other players like Patrick Kane and Timo Meier to fill that spot but will end up with a player who not so long ago requested a trade out of St. Louis.
Tarasenko needed to waive his no-trade clause for this to happen, but that never seemed like much of an issue for a contending, big market team like New York. He'll now get to showcase his skills down the stretch and try to land another huge contract on the open market. His current eight-year, $60MM deal will expire in a few months, and while the Rangers could potentially extend him, they have some other negotiations on the horizon. This could end up being a pure rental, if Tarasenko is demanding anything close to the $7.5MM cap hit he currently carries.
Not to be overlooked in this trade is Mikkola, who had drummed up his own interest as the deadline approached. The 26-year-old defenseman is a big, physical presence that can handle tough minutes against good players, even if he isn't going to contribute offensively. The Rangers already have enough defenders who can move the puck – adding a player like Mikkola will give them some added depth for what they hope is a long playoff run.
Blais heads back to St. Louis after a short unsuccessful stint in New York. The 26-year-old was part of the Pavel Buchnevich trade in the summer of 2021, and was expected to be a heart-and-soul bottom sixer for years to come. Instead, he suffered an early injury that limited him to just 14 games in 2021-22 and has never been able to recapture the upside he showed in St. Louis. Through 54 games for New York, Blais failed to score even a single goal, recording nine points along the way.
Skinner, 21, has split this season between the ECHL and AHL, and is likely only included to balance out the contracts. The fourth-round pick has two points in eight games for the Hartford Wolf Pack, and is far from adding any value at the NHL level.
Adding a first-round pick in this year's draft is a big addition for St. Louis though, especially for a player who they had no real chance of re-signing. A split was coming one way or the other with Tarasenko, and now the Blues have some extra ammunition to use in the offseason. As we discussed recently in the St. Louis deadline primer, general manager Doug Armstrong has followed this playbook before. Sell expiring veteran contract for picks, flip picks into valuable NHL talent at the draft. We'll have to see if that's what is in store this time, but it's no rebuild in St. Louis. With Robert Thomas and Jordan Kyrou locked in long-term, the team will build around a new core and see if they can get back to the playoffs next season.
It also isn't the end of the dealing for Armstrong. The team still has Ryan O'Reilly and Ivan Barbashev, among others, to trade at the deadline if necessary. In the span of a few weeks the cupboards in St. Louis could look a lot more full.
Frank Seravalli of Daily Faceoff was first to break the news that Tarasenko had been traded. 
Photo courtesy of USA Today Sports Images