With American Thanksgiving now behind us and the holiday season coming up, PHR continues its look at what teams are thankful for in 2022-23. There also might be a few things your team would like down the road. We'll examine what's gone well in the early going and what could improve as the season rolls on for the Montreal Canadiens.
Who are the Canadiens thankful for?
Kent Hughes.
It hasn't even been a year since the Canadiens installed Hughes as general manager but his impact is already found throughout the organization. He has completed 14 trades in the months since arriving, adding nearly a dozen high-end future assets including Kirby Dach, Justin Barron, and multiple first- and second-round picks without taking much value out of the organization.
Yes, fans have had to say goodbye to Artturi Lehkonen, Jeff Petry, Ben Chiarot, and Tyler Toffoli, but none of those players were expected to be around the next time the Canadiens were competitive. Alexander Romanov could have been part of the rebuild but Hughes saw an opportunity and jumped at it, cashing in an asset to get a player in Dach that he more highly coveted.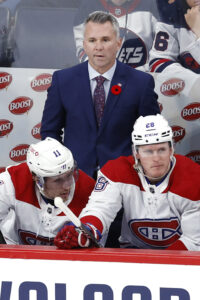 Perhaps his most important move, however, was having the guts (and relationship) to hire Martin St. Louis to run the bench, despite no formal coaching experience. The home run cut appears to have worked, as St. Louis' impact has been felt throughout the roster – nowhere more significantly than with Cole Caufield. Last season, the young sniper didn't score his second goal until February 10, after a stint in the minor leagues. He would score 22 times in 37 games down the stretch under the new coaching staff, and has continued that production this season. Caufield now has 37 goals in 63 games under St. Louis and has become the core piece that Montreal fans knew he could be.
What are the Canadiens thankful for?
Nazem Kadri's long free agent process.
There is one trade that looks like a complete gold mine for the Canadiens, and had Kadri – one of the league's top free agents last summer – not taken so long to make a decision, who knows if Hughes would have come out so far ahead. By the time the Calgary Flames signed the free agent center to a seven-year, $49MM contract, it was already August 18, and training camp was right around the corner. Calgary didn't have a ton of time to sort out its financial situation and clear cap off the books. Right away, they made the move to flip Sean Monahan to the Canadiens along with a first-round pick for nothing in return.
Now, after returning from another hip surgery earlier this year, Monahan looks rejuvenated and is playing big minutes for the Canadiens. If the team wants to, they shouldn't have any trouble flipping the 28-year-old at the deadline, perhaps even for an extra first-round pick, given his strong performance so far.
Had Kadri not signed with Calgary, or had it not taken more than six weeks from the start of free agency, the Flames might not have been in such a rush to dump Monahan's contract. Taking advantage of that timing worked out perfectly for Montreal, who gained a high pick and a top-six center to ice for the first part of this season, if not longer. They do have the option of extending his expiring contract, though the future assets that are possible with a deadline deal might seem too good to pass up.
What would the Canadiens be even more thankful for?
The return of Brendan Gallagher.
There are some players in the NHL that get by for years without suffering serious injuries, and play well into their thirties without much of a decline. Gallagher is not one of those players. The in-your-face, bang-and-crash, do-anything-required forward has long been the engine of the Montreal forward group, flying around the ice and creating havoc in the opponent's end. For a time, he was also one of the most effective players in the league below the hash marks, despite being just 5'9″. He scored 64 goals over a two-year stretch from 2017-19, 51 of them coming at even strength.
But after years of abuse, his game has declined. Gallagher has just eight points in 22 games and is seeing fewer minutes than he has since finishing second in Calder Trophy voting in 2013. While the Canadiens aren't desperate for his production as they move through this rebuild, the problem lies in his contract. Gallagher is signed at a $6.5MM cap hit through 2026-27, a deal that will be extremely difficult to move if the team needs additional space. Remember, this isn't a complete teardown – the Canadiens already have some of the pieces in place for their next competitive team. Four more years of Gallagher being paid like a top-end forward is one of the only difficult contracts on the books.
There is still hope, at least, that the 30-year-old can rebound at some point. But there are a lot of miles on that body from the playstyle Gallagher has embraced and injuries just keep piling up.
What should be on the Canadiens' holiday wishlist?
Another young, NHL-ready forward.
Grabbing first-round picks is great, but the Canadiens already have so many draft picks that they should shift their trade focus to players closer to contributing. Dach was a move in that direction, and there will be more opportunities to grab players in the same age range. As they start shedding expiring veteran contracts like Monahan, Mike Hoffman, Evgenii Dadonov, Jonathan Drouin, and even potentially Joel Armia, there will be spots and ice time to hand out.
Adding another dynamic piece to build around should be the goal now, instead of just collecting lottery tickets for the future. If one becomes available, Hughes has proven he won't hesitate to pull the trigger, even if it costs another future asset in the process.
Photo courtesy of USA Today Sports Images.