Navigating the salary cap is one of the more important tasks for any GM.  Teams that can avoid total cap chaos by walking the tightrope of inking players to deals that match their value (or compensate for future value without breaking the bank) remain successful.  Those that don't see struggles and front office changes.
PHR will look at every NHL team and give a thorough look at their cap situation for the 2022-23 season and beyond.  This will focus more on players who are regulars on the roster versus those who may find themselves shuttling between the AHL and NHL.  All cap figures are courtesy of CapFriendly.
Detroit Red Wings
Current Cap Hit: $78,240,646 (under the $82.5MM Upper Limit)
Entry-Level Contracts
F Jonatan Berggren (two years, $925K)
D Moritz Seider (two years, $863K)
F Elmer Soderblom (three years, $878K)
F Lucas Raymond (two years, $925K)
F Joe Veleno (one year, $894K)
Potential Bonuses
Raymond: $2.5MM
Seider: $850K
Soderblom: $82.5K
Veleno: $425K
Total: $3.875MM
Raymond made an immediate impact on the Red Wings last season, quickly establishing himself as an impact scorer, something that has carried over in the early going this year as well.  GM Steve Yzerman has typically been hesitant to commit long-term contracts off of bridge deals but the winger is a candidate to be an exception.  A bridge deal could push past the $5MM mark while a long-term agreement could come closer to the $8MM range if he progresses in the second half of his contract.  His 'A' bonuses are likely to be reached ($850K in total) while the others are less likely.  Veleno has locked down a regular role in the lineup but in a limited role.  Assuming that continues, he's someone that will likely receive a short-term second contract that should fall around the $1.75MM to $2MM mark.
Soderblom broke camp with Detroit and immediately became the tallest player in the NHL.  When healthy, his role has been limited so far which makes it difficult to project his second contract.  Assuming he remains in the bottom six for the next couple of years, he should check in close to what Veleno's next deal will be.  Berggren has done well in his limited action so far while being up on injury recall but is a candidate to go back to the minors as others return.  As such, a short-term deal for close to the minimum (with a higher two-way salary or even a one-way pay) is his likely outcome.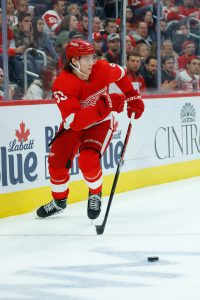 Seider made quite the impression last season, quickly becoming Detroit's top defenseman while taking home the Calder Trophy as Rookie of the Year.  He's off to a bit of a slower start this year but is still doing quite well all things considered.  His contract is another case where Yzerman may have to deviate from the usual standard of going with a bridge deal.  A short-term pact could resemble Rasmus Dahlin's three-year, $18MM pact (likely higher with the salary cap being higher in 2024 than it is now) while a longer-term deal could put him in the range of Miro Heiskanen's $8.45MM AAV (again, to be adjusted to the cap percentage at that time).  He's a safe bet to hit his four 'A' bonuses as well.
Signed Through 2022-23, Non-Entry-Level
F Tyler Bertuzzi ($4.75MM, UFA)
F Adam Erne ($2.1MM, UFA)
D Robert Hagg ($800K, UFA)
G Magnus Hellberg ($750K, UFA)
F Dylan Larkin ($6.1MM, UFA)
D Gustav Lindstrom ($850K, RFA)
F Matt Luff ($750K, RFA)
D Olli Maatta ($2.25MM, UFA)
G Alex Nedeljkovic ($3MM, UFA)
D Jordan Oesterle ($1.35MM, UFA)
D/F Mark Pysyk ($850K, UFA)
F Oskar Sundqvist ($2.75MM, UFA)
F Pius Suter ($3.25MM, UFA)
D Jake Walman ($1.05MM, UFA)
Decision time is fast approaching on what to do with Larkin.  The captain seemed like a logical candidate for an early extension back in the offseason but clearly, the two sides are far enough apart that such a move couldn't be reached.  He's a strong candidate for a max-term agreement (eight years with Detroit if he signs before free agency, seven years elsewhere) with an AAV that should push him past the $8MM mark.  Bertuzzi is another player they have to decide on but staying healthy has been an issue already this season which complicates things.  When he's on, he plays at a 30-goal level which is worth upwards of $6MM on the open market on a long-term deal.  But if he can't stay in the lineup, his market won't be as strong.  While a short-term contract in unrestricted free agency isn't ideal, it's an option he might have to consider if things don't go well this year; such a deal would likely come with a small raise from what he's making now.
Suter's per-game numbers aren't far off what they were in his rookie season with Chicago.  While those don't jump out off the page, he looks primed to hit the market at 27 with a more proven level of production and an ability to play both center and the wing.  There's bound to be a strong market as a result which could push him into the $4MM range.  Sundqvist hasn't been able to crack the top six but has settled in the last few years as someone that can contribute from the third line.  He also plays both center and the wing and can kill penalties but the limited production will limit his earnings upside.  Even so, he has a good enough track record to add half a million or so on his next deal.
Erne hasn't quite been able to live up to the offensive upside he showed a couple of years ago although he remains a physical presence in the bottom six.  If a team or two thinks they can unlock the production, he could add a few hundred thousand to his AAV while if not, a similar contract to his current one is possible.  Luff was injured shortly after being recalled and is a strong candidate for a one-year, two-way deal at the NHL minimum once again.
Maatta came to Detroit with the hopes of rebuilding his value after a few tough seasons.  So far, so good on that front as he's logging a little over 20 minutes a game while being on pace for 30 points which would narrowly beat his career high.  Even so, his struggles before that should limit his market somewhat.  If he stays at this level of play, a jump into the $3.5MM range could be possible for him.  Oesterle hasn't been able to lock down a regular spot in the lineup with Detroit and barring any changes in that situation over the rest of the season, he's likely looking at a deal closer to the league minimum next summer.
Walman recently returned from injury and is looking to secure a full-time role in the lineup.  If he can do that, a small raise should be on the table for him.  Lindstrom is a depth player who can't crack either special teams role which isn't ideal.  He's owed nearly $1MM on his qualifying offer and it shouldn't take much more than that to sign him for next season.  Hagg and Pysyk both signed their deals last summer and there's no reason to think their markets will drastically change for next July, especially with Pysyk having missed all of this season so far due to a torn Achilles tendon.
This has not been a good contract year for Nedeljkovic who has struggled mightily this season to the tune of a 4.33 GAA and a .873 SV%, numbers that are among the worst in the league.  His track record is still rather limited (just 94 regular season games) which complicates things.  If these struggles continue, he's likely to land a one-year deal somewhere in the hopes of rebuilding his value.  If he can turn things around a bit, a medium-term agreement around this price point isn't impossible.  Hellberg has bounced around this season without playing a whole lot.  Those don't help his cause for his next deal which, at this point, shouldn't cost much more than his current one.  If he can find a way to get into a few games at least and hold his own, that could push him closer to the $1MM mark.
Signed Through 2023-24
D Filip Hronek ($4.4MM, RFA)
F Dominik Kubalik ($2.5MM, UFA)
F David Perron ($4.75MM, UFA)
F Michael Rasmussen ($1.46MM, RFA)
F Jakub Vrana ($5.25MM, UFA)
Vrana's case is going to be difficult to predict as he has played just twice this season before entering the Player Assistance Program.  Last season, he was injured for most of the year.  When available, he has been quite effective since joining Detroit, with 22 goals and 10 assists in 39 games.  But coming off what's likely to be two limited seasons, can he realistically command much more than he's getting now?  Perhaps on a short-term deal but there may be some hesitance to work out a long-term agreement.  Perron won't have that question as he'll be 36 by the time his next contract starts so his will be a short-term deal no matter what.  If he continues to hover around the 60-point range, he could garner a small raise.
Kubalik's hot start might not be fully sustainable but as long as he can hold down a top-six role, he'll outperform this contract.  If he can play near this level for this season and next, he could command more than $6MM on the open market.  But that's a big if based on what transpired over his time with Chicago which makes it difficult to forecast what his next contract will be based on his previous volatility in production.  Rasmussen is on his bridge deal now and is very slowly but surely starting to assert himself more.  Even if he stays on the third line, he could have a shot at doubling this price tag in 2024 and if he can move up higher in the lineup with some regularity, something closer to the $4MM range is doable.
Hronek's future with Detroit was in question over the summer although he's still with them now and is still logging big minutes while being off to the best start offensively of his career.  He'll be owed a $5.28MM qualifying offer when this deal is up while being one year away from unrestricted free agency.  If he produces close to the 35-point level he has been at in the past, a long-term deal around $6MM could come his way.  If he can sustain his current level of production, however, add a couple million per season onto that.
Signed Through 2024-25
F Robby Fabbri ($4MM, UFA)
G Ville Husso ($4.75MM, UFA)
F Filip Zadina ($1.825MM, RFA)
When healthy, Fabbri has been a quality second liner since joining Detroit in 2019 which is what helped earn him this contract last season.  Unfortunately, staying healthy has been a challenge, especially when it comes to his knees as he's battling issues there for the third time in his career already.  Ultimately, his next contract will come down to whether or not he can overcome yet another surgery and get back to his previous level.  If so, a raise is definitely possible but if not, his price could drop a fair bit.  Zadina's bridge deal gives everyone more time to evaluate if he's a core player of the future for this team or not.  The early returns weren't great before he suffered a lower-body injury but there's lots of time for that to change.  It's worth noting that his qualifying offer in 2025 will be $2.19MM with arbitration rights.
Husso came to Detroit this summer in the hopes of establishing himself as a legitimate starting goalie.  So far, so good on that front.  While it's still very early and he has just 70 regular season games under his belt, he's young enough to command a long-term deal if he stays in that role.  In that scenario, he should be able to pass the $6MM mark at a minimum.
Signed Through 2025-26 Or Longer
D Ben Chiarot ($4.75MM through 2025-26)
F Andrew Copp ($5.625MM through 2026-27)
Copp broke out offensively last season and in doing so, pushed his price tag considerably higher than many expected considering it was the only year that he put up at least 40 points.  Of course, he brings other elements to the table (physicality, defensive play, and generally, a good showing on faceoffs) but the question will be if he can produce like a second liner.  If so, they'll do well with this deal.  But if he goes back to being more of a 35-point player, this will quickly become an above-market contract.
Chiarot is a player whose market value always seems to exceed his analytical value.  We saw it with his last contract with Montreal, the high price Florida paid to rent him at the trade deadline, and then the deal Yzerman gave him back in July.  As long as he can hold down playing 20 minutes a night while playing his usual style, Detroit should be happy with this deal.  But given how physical he is and his age (currently 31), can he hold up for four years?  If not, the back end of this contract might hurt a little bit.
Buyouts
F Justin Abdelkader ($2.305MM in 2022-23, $1.055MM from 2023-24 through 2025-26)
F Frans Nielsen ($500K in 2022-23)
Retained Salary Transactions
F Richard Panik ($1.375MM in 2022-23)
Best Value: Kubalik
Worst Value: Copp
Looking Ahead
Detroit's cap situation this season is a little better than the number listed at the beginning of the article when you consider that they're carrying 29 players at the moment.  As some return, others will go to the minors and more space will open up.  They're well-positioned to absorb their likely bonuses and if they can hang around the playoff mix, they'll be in way better shape than most buyers when it comes to being able to afford upgrades at the trade deadline.
Their core is going to get a lot more expensive soon.  Larkin needs to be re-signed or replaced at a rate that will be a couple million higher than what he's at now.  Seider and Raymond's second contracts should add at least $10MM to their books in 2024 and considerably more than that if they get long-term agreements.  However, they've at least hedged against that with few current long-term commitments (less than $23MM on the books for 2024-25 at the moment) which gives Yzerman considerable flexibility to keep and add to his core over the next couple of years.
Photo courtesy of USA Today Sports Images.