Navigating the salary cap is one of the more important tasks for any GM.  Teams that can avoid total cap chaos by walking the tightrope of inking players to deals that match their value (or compensate for future value without breaking the bank) remain successful.  Those that don't see struggles and front office changes.
PHR will look at every NHL team and give a thorough look at their cap situation for the 2022-23 season and beyond.  This will focus more on players who are regulars on the roster versus those who may find themselves shuttling between the AHL and NHL.  All cap figures are courtesy of CapFriendly.
Buffalo Sabres
Current Cap Hit: $65,105,451 (under the $82.5MM Upper Limit)
Entry-Level Contracts
F Dylan Cozens (one year, $894K)
F Peyton Krebs (two years, $863K)
F John-Jason Peterka (three years, $856K)
D Owen Power (two years, $917K)
F Jack Quinn (three years, $863K)
Potential Bonuses
Cozens: $850K
Krebs: $412.5K
Peterka: $82.5K
Power: $925K
Quinn: $850K
Total: $3.1195MM
Cozens did well last season in his first full NHL campaign, checking in at just under half a point per game while he's doing a little better than that this year.  He has positioned himself for a bridge deal that would start in the $3MM range but knowing what GM Kevyn Adams has done in terms of trying to lock up some core pieces lately, it wouldn't be surprising to see the Sabres try to work out a long-term agreement that could be closer to twice that amount while buying out some UFA years.  Krebs came over as part of the Jack Eichel trade last season and while he's holding down a regular spot in the lineup, he has yet to score in 15 games this year.  While he's still certainly part of their future plans, it's looking likely that he'll be heading for a bridge contract.
Quinn was dominant in the minors last season and expectations were somewhat high for him this year.  He hasn't been overly productive in the early going but it's only the first year of his contract.  A lot could change in the next couple of years which could make him a target to skip the short-term second deal and go straight to the long-term one.  Peterka has been quite effective in a middle-six role this year and while he doesn't have quite the fanfare that Quinn (or even the other two entry-level forwards) has, he could skip the bridge deal if he's able to lock down a full-time spot in the top six over the next couple of seasons.
Power hasn't scored yet this season but that's about the only small blemish.  He's already averaging nearly 24 minutes per game and playing in all situations.  This is the type of profile that typically signs a long-term second contract and we've seen the high end of that scale hit $9.5MM recently.  Power has a long way to go to get to that level for sure but if he lives up to the hype, he'll be a very expensive rearguard before too long.
Signed Through 2022-23, Non-Entry-Level
G Craig Anderson ($1.5MM, UFA)
F Rasmus Asplund ($825K, RFA)
G Ben Bishop ($4.917MM, UFA)
F Anders Bjork ($1.6MM, RFA)
D Casey Fitzgerald ($750K, RFA)
F Zemgus Girgensons ($2.2MM, UFA)
F Vinnie Hinostroza ($1.7MM, UFA)
D Lawrence Pilut ($750K, UFA)
F Kyle Okposo ($6MM, UFA)
F Riley Sheahan ($950K, UFA)
Potential Bonuses
Anderson: $500K
After some underwhelming years offensively, expectations were somewhat low for Okposo the last couple of years but he had a nice bounce-back season in 2021-22 and is off to a good start this year.  $6MM for the captain is certainly out of the question at this stage of his career but a multi-year agreement around half of that doesn't seem as outlandish as it might have been just a couple of seasons ago.  Girgensons has been around for a long time (this is his ninth season) but gone are the days when the hope was that he could eventually move into the top six.  He's a checking forward now that can play both center and the wing.  There's value in that type of player but he shouldn't cost much more than what he's making now though another multi-year deal should come his way.
Hinostroza earned this raise on the heels of one of his stronger NHL performances last year but he remains more of a tertiary scorer that plays in the bottom six.  His market hasn't been the strongest in the past so it's hard to forecast much of a raise for his next potential trip to the open market.  Bjork hasn't been able to establish himself with Buffalo and actually cleared waivers last month.  With a $1.8MM qualifying offer on the horizon, he looks like a strong non-tender candidate at the moment.  That can't be said for Asplund who has turned into a quality defensive winger that can chip in a bit offensively as well.  With a couple of RFA years remaining, Buffalo could look to do a one-year deal around double his current price or push for a multi-year pact that would push his AAV past the $2MM mark.  Sheahan has been on cheap one-year deals the last four seasons and there's little reason to think that won't be the case next season as well.  At this point, the only question is if he can secure a one-way pact instead of a two-way contract.
Fitzgerald and Pilut largely fall in the same category – players that are trying to establish themselves as NHL regulars.  With the former, arbitration rights could put his next deal around the $1MM mark on a one-year agreement while with the latter, he should stay around the minimum if he sticks around the NHL.  Returning overseas for a bigger role is definitely a possibility as well.
Bishop is only on Buffalo's roster on paper.  His playing days are done and he's likely to go back to Dallas next season after it was ruled he couldn't work for them this year.  If someone wants to get creative with LTIR down the stretch, he's a potential trade candidate.  Anderson did well with Buffalo last year, earning himself a raise for this season as well.  He's going to go year to year from here on out which is understandable since he's 41 but if he's up for playing another year, a similar-priced deal could be attainable.
Signed Through 2023-24
D Jacob Bryson ($1.85MM, RFA)
G Eric Comrie ($1.8MM, UFA)
D Rasmus Dahlin ($6MM, RFA)
D Henri Jokiharju ($2.5MM, RFA)
G Ukko-Pekka Luukkonen ($837.5K, RFA)
D Ilya Lyubushkin ($2.75MM, UFA)
F Casey Mittelstadt ($2.5MM, RFA)
F Victor Olofsson ($4.75MM, UFA)
Olofsson has been a player that has been a core piece at times and seemingly on the outside looking in at others.  That's part of the reason why he has been on short-term contracts to the point where Adams opted to bridge him into unrestricted free agency.  When he's on, he produces at a top-six rate that's worthy of this price tag.  When he isn't, he's not.  Over the next two years, teams will have a better idea of which version they're likely to get in 2024 and will offer accordingly.  Mittelstadt has been much better this season after a tough first year on this bridge deal.  If he can work his way into a full-time top-six spot by 2024, his next deal could push into the $4MM range.  If the early success this year is the outlier though, they'll have a decision to make about qualifying him at $2.6MM with arbitration rights.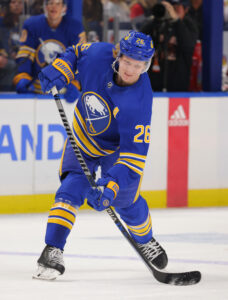 Dahlin is a rare first-overall pick to receive a bridge contract.  The decision was certainly defensible as he was coming off a rough performance in 2020-21 and there were questions about his ability to get to his high ceiling.  Since then, those questions have gone away rather quickly as Dahlin had a career year last season and has been even better this year while becoming one of the top-scoring blueliners in the league.  In doing so, he has shown that he is indeed a franchise defender.  With that in mind, tendering the $7.2MM qualifying offer really isn't the next question for Buffalo – it's how much more than that will it take to get him to stay away from testing the open market in 2025.  A double-digit AAV seems quite likely at this point.
Lyubushkin's contract seemed a bit rich when it was signed early in free agency last summer but he is filling a spot on their third pairing while playing with the physicality he has shown throughout his career.  If he had enough interest back in July to command this deal, it's reasonable to infer that there could be enough interest in him in 2024 to push this price tag at least a little higher.  Jokiharju also struggled a bit in the first season of his three-year bridge deal while injuries haven't helped things this year.  When healthy, he can play in their top four so there shouldn't be any issues qualifying him at $2.6MM; his production (or lack thereof) will determine if it's just a small increase from there or a bigger jump toward the $4MM range.  Bryson is now a regular on the back end and the goal now for him will be getting into the top four regularly.  Doing that would push him close to $3MM on his next deal as it looks like his earnings upside will be somewhat limited due to a lack of offense.
Comrie came over from Winnipeg looking for a chance to play a bigger role and he has received that with Buffalo.  However, the results have been mixed so far.  Considering he's making less than a lot of veteran backups, it's certainly not an above-market contract but he will need to show some improvement if he wants an opportunity to beat that in 2024.  Luukkonen is Buffalo's goalie of the short-term future; at least, that's the plan.  With limited NHL action at this point, he's not going to have much history to work with when it comes to contract talks.  A one-year deal could be done to buy more sides more time to evaluate or the Sabres could come in with a medium-term agreement in the $4MM range that carries some risk but also some upside if he becomes a legitimate starter.
Signed Through 2024-25
None beyond the players on entry-level contracts.
Signed Through 2025-26 Or Longer
D Mattias Samuelsson ($925K this season on entry-level deal, $4.286MM from 2023-24 through 2029-30)
F Jeff Skinner ($9MM through 2026-27)
F Tage Thompson ($1.4MM this season, $7.143MM from 2023-24 through 2029-30)
F Alex Tuch ($4.75MM through 2025-26)
Skinner's contract certainly hasn't aged too well although, to his credit, he was considerably more productive last season and has done relatively well this year as well.  Certainly not enough to live up to the price tag but gone are the days of him being a healthy scratch or on the fourth line.  It'll never be a bargain deal but Skinner returning to being a top-six player has helped improve their offensive depth considerably.
Thompson was the breakout star last season that few saw coming.  The Sabres clearly believe it's repeatable with the extension that they gave him.  Impressively, he has been even more productive in the early going this year so if he is indeed this type of impact player moving forward, this could become a very team-friendly deal down the road.  Of course, it goes without saying that a drop back to the level of performance from before 2021-22 will make this an anchor deal for a long time.  Tuch also came over in the Eichel swap and is getting an opportunity to be a top-six power forward, a chance he didn't receive too often with Vegas.  The results have been promising so far and if he keeps producing, this could quickly become a very team-friendly deal.
Samuelsson's contract raised some eyebrows considering he's still looking for his first career NHL goal after 59 games.  It's clear they feel he's a second-pairing player already though and shutdown players that log 20 minutes a night go on to get contracts in this range eventually.  Doing so now gives Buffalo some cost certainty and if the offense comes around, it'll be a bargain down the road.  In the meantime, it's a short-term overpayment but one they can easily fit in on their books.
Buyouts
D Christian Ehrhoff ($857K through 2027-28, no cap hit)
F Cody Hodgson (one year, $792K)
Retained Salary Transactions
None
Best Value: Thompson (this season's price tag)
Worst Value: Okposo
Looking Ahead
No team has more cap space than Buffalo does this season so if they're in the playoff hunt in a few months and have room in the salary budget, they're well-positioned to try to add.
But this core is about to get a lot more expensive in a hurry.  The summer of 2024 is the one to watch for with both Power and Dahlin needing new deals, ones that will add anywhere from $10MM to $15MM to their books depending on how they progress between now and then.  Add some higher-priced deals for their other entry-level players and the spending is going to add up in a hurry.  They will still have some flexibility as some of their veteran contracts expire but at that point, it's going to come down to budget room.  If the money is there and there's room to add some impact veterans to this core, things will be looking up in Buffalo soon.
Photo courtesy of USA Today Sports Images.