Topics in this edition of the PHR Mailbag include the early-season struggles for multiple Western Conference teams, possible trade candidates, the Hockey Hall of Fame, and more.  If your question doesn't appear here, watch for it in next weekend's mailbag column.
J.H.: Could you see the Kings making a change from McLellan if their defensive, structural issues lead to a prolonged slump? The added offense is nice, but the breakdowns, turnovers, and various other miscues have cost them several games. System issues like that probably shouldn't be happening now in year four, especially since there are actual expectations for this team after last year's playoff appearance. Are there any other potential coaching changes you could foresee that would be surprising yet plausible like that?
bigalval: Kings have given up the most goals of any team what is wrong with them?
Let's put the Los Angeles questions together.  First, it's worth noting that they've won three straight since the first one was posted which might change things up a bit.  I don't think McLellan's future is overly secure as yes, there are some structural issues and if you look at his last job with Edmonton, this was around the time when they made a change.  But thanks to that three-game win streak, they're in the top three in the Western Conference so they're likely not leaning towards making a move.
If I was going to speculate about a coaching change, this feels like a good landing spot for Barry Trotz if he was willing to return.  He would fix up some of the defensive breakdowns with his systems although it would likely come at the expense of some scoring, an area where things have been going quite well in the early going.  That would also help solve some of the goaltending woes.
One of the concerns I had about the Kings going into this season was between the pipes.  Yes, Jonathan Quick had a bounce-back year last season but his last three years were below league average.  Accordingly, it was unrealistic to expect that his 2021-22 performance would carry over.  It hasn't.  Calvin Petersen had a tough showing last year which was cause for concern this season and his numbers early on are worse than last season.  Going into this season with that duo and no demonstrable improvement on the back end (beyond a return to health for Drew Doughty) was risky.  Right now, it's holding them back.
Gbear: The Preds have for the most part looked like a well below-average hockey team so far this season, how long of a rope do you think John Hynes has if this type of play continues?
I think he still has a lot of rope left.  GM David Poile is known for being patient and has made a grand total of one in-season coaching change in franchise history, one that dates back to 1998.  A slow start alone probably isn't going to be enough of an indictment to pull the trigger quickly.
How much of their early-season struggles are based on coaching and how much of those struggles are attributable to roster composition?  Looking at their roster, there are a lot of fringe or unproven players filling out that lineup.  That's not a good thing.
There's also the matter of last year having some unsustainable performances.  How many think that Matt Duchene and Ryan Johansen will produce at a similar rate this season and beyond?  I don't even think Poile did as his upgrades to the roster were of the free variety, ones that didn't push in any younger assets as a team with eyes on contending might be willing to do.  Poile's actions this summer were that of a GM that knows his team is a bubble squad.
Right now, the Predators sit near the bottom of the West but aren't too far out of the playoff race.  That's slightly underachieving but probably not to the point where a coaching change is seriously being considered.
Johnny Z: Where is Bo Horvat going?
Where is Brossoit going?
Will the Sabres go after Kane?
I have a hard time thinking that Vancouver isn't going to find a way to keep Horvat in the fold.  The market rate for centers like him is in the mid-$7MM range and if the Canucks get around there, I think they'd be able to work something out from there.  I wonder if they might be waiting to see if they get some sort of indication or an updated estimate of next year's cap to see if they can afford to give him that extra little bit to get a contract done.  I'm not convinced he's going anywhere unless they really fall out of the mix over the next couple of months and they decide to really shake up the core.  If that happens, ask me again closer to the trade deadline.
Laurent Brossoit made it through waivers this week which takes away my original answer of Winnipeg.  That is, unless they prefer to trade for him using David Rittich to offset some of the difference in salary; with attendance down, those little differences might matter.  Right now, I think he stays put for a little while and gets some regular reps in the minors.  If he can do that, stay healthy, and play well, then he becomes a trade candidate with either a little bit of retention or some sort of salary offset for whoever has a goalie go down with a long-term injury over the next month or so.  Unfortunately, that makes it next to impossible to predict where he'll go since we can't forecast who will have goalie injuries.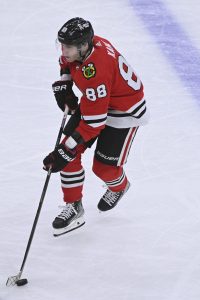 Patrick Kane to Buffalo has long been speculated and for obvious reasons.  But I still don't understand the notion of trading for him.  They're probably not making the playoffs and considering he's a Buffalo native, I don't think they need to try to sell themselves and the market to him; I'm pretty sure he knows what's what already.  He should be dealt to a legitimate Stanley Cup contender and that's not Buffalo.  Now, come July, the answer should almost certainly be yes.  As a free agent, with no cost beyond the contract, Kane would make a lot of sense for the Sabres as a veteran to help drag them from being a non-playoff team into one that should battle for at least a Wild Card spot.  But that's a move for them to make next summer, not before then.
Gmm8811: It's still early in the season…I usually wait till 20-23 games played to decide if a team needs to be blown up or not. With that being said, what are your thoughts on the Blues dumping players for draft picks? We've talked salary cap issues coming up in past conversations…the fact that Armstrong isn't afraid to let a team favorite go…I think it was a big mistake to give Kyrou and Thomas those huge extensions. Might be time to make some significant moves. 6 mil for Binnington is ridiculous also.
I don't think St. Louis is at that spot just yet.  First, it is still too early to make that type of core shakeup.  This is a team that has eyes on contending this season and while they're at the bottom of the Western Conference, they're a quick winning streak away from being back in the race.  Second, who has cap space to take on a pricey player for a draft pick?  18 teams are currently in LTIR and several of the 14 that aren't are aiming for the bottom of the standings.  That doesn't create much of a trade market at this point of the season.
We know that GM Doug Armstrong isn't afraid to shake things up but there's a different element at play now.  With those big extensions to Jordan Kyrou and Robert Thomas kicking in next season, that squad is likely to be weaker than this one.  In other words, this is probably the last real kick at the can for this core group.  It's one thing to part with a core player within the context of knowing that the core is still good enough to contend for a little while longer but they can't say that here.
Is a rough stretch to start the season enough to kickstart what could be a rebuild?  Probably not.  Don't get me wrong, if they're still at the bottom of the conference come midseason, then Armstrong will almost certainly be laying the foundation for trades at the deadline (as again, cap situations around the league make big trades before that point less likely).  But that's a decision to make at the 45-game mark, not 15.
If you want some reason for optimism, the Blues' shooting percentage suggests they're due for some good bounces to get closer to that league average.  Jordan Binnington might not be worthy of a $6MM AAV but he's a better goalie than he has shown so far.  A better performance from him, a bit more puck luck on the goal side, and this St. Louis team is probably at least back in the mix over the next couple of months.
Breakaway: As per Twitter, Connor McDavid was traded!!! It wasn't real but what star player could be traded that has most of us saying… "I didn't see that coming"?
The name that immediately came to mind when I first saw this question is Arizona's Clayton Keller.  Yes, it might seem odd that I'm picking a Coyote but for all the rumors and speculation surrounding their good players over the years, he hasn't been in any of them.  Their stated intention is to keep him but with GM Bill Armstrong acknowledging to NHL.com's Dan Rosen earlier in the week that their goal is to make the playoffs within five to six years, is keeping Keller, who's signed for six more years, really viable?  Will he want to lose for several more years?  If the answer to both of those is no, then he's a star that could be moved that could still catch some people off guard.
I assume you're wanting a name that isn't quite that obvious, however.  If Columbus decides that they tried to come out of the rebuild too early, I could see a scenario where they try to move Patrik Laine since Johnny Gaudreau isn't going anywhere and while he's not the elite scorer he was a few years back, he's still a star player.  If Alex DeBrincat isn't amenable to signing a long-term extension with Ottawa and the Sens find themselves out of the playoff picture, GM Pierre Dorion might be pressed into a move which is something few would have seen coming back at the draft when they acquired him.
Still too logical?  How about Mitch Marner?  This is more of a pie-in-the-sky type of guess but Auston Matthews and William Nylander are up for new deals before Marner and they still have a roster that's still too top-heavy in terms of money distribution.  If they re-sign Matthews, I don't think they can keep Nylander and Marner.  Do they opt to sign Nylander at a higher rate long-term and move away from Marner instead of it being the other way around?  I could see that happening but that would be more of a next summer move than an in-season one.  That might not be one that many would see coming though.
trak2k: Are there certain plateau numbers in the NHL that should get someone into the Hockey Hall of Fame, say 500 goals and or 1,000 points?
For example, in MLB if a hitter gets 3,000 hits and or 500 home runs there's a decent chance they get in the Baseball Hall of Fame. Same with a pitcher getting 300 wins.
I find there seems to be a lot more subjectivity when it comes to voting for the Hockey Hall of Fame.  The panel is much smaller and they are sworn to secrecy about discussing anything about the vote.  When the Hall released its list of eligible players, it emphasized a minimum of 1,000 games played, 300 goals, 400 assists, or 700 points for skaters and 400 games played, 200 wins, or 25 shutouts for goalies.  Those feel like a minimum standard although it's a bit low.
Your proposed thresholds look pretty good.  There are 46 players in NHL history that have scored 500 goals.  Of those, three are still active and one (Patrick Marleau) isn't eligible yet.  Of the other 42, all but five are in there so that seems like a good baseline.  As for 1,000 points, 98 have gotten there and 11 are either inactive or not yet eligible.  Of the remaining 87, 68 are in there with the highest among non-inductees being Pierre Turgeon (39th in all-time points).  So on a percentage basis, you have a 78% chance of getting in with 1,000 points so that's reasonable as well.
I'll add that with several different eras (like baseball), it's hard to compare players today to players of a generation or two ago.  That's where Paul Pidutti and his Adjusted Hockey project comes in as he tries to create an era-adjusted more uniform standard for comparison.  Daily Faceoff's Frank Seravalli interviewed Pidutti earlier this month with some more information about the project if you're interested.
@iwtfwc: It's early in the season but, with all the injuries, and the search for some cohesion with the middle and bottom six, what are the chances that Avalanche make a move via trade for a rental this season? P. Kane? R. O'Reilly? V. Tarasenko? Etc.?
Colorado's injury situation makes it extremely unlikely that they'll be able to make a move for someone of consequence right now.  They're now into LTIR and will need to make sure that they're cap compliant when Darren Helm and Gabriel Landeskog return.  Their other injuries to Valeri Nichushkin, Bowen Byram, and now Shane Bowers (who will be out and thus on their books for six weeks) will make it difficult for Colorado to get under the LTIR line and bank some cap space.  While they'd probably like to make a move to shore things up now, they can't really afford to.
Having said that, I think the odds are quite high that they will make a move but it will be one that comes at or very close to the trade deadline to minimize the money that comes in.  That's the time that teams will be more willing to retain 50% as well.  I anticipate that their focus will be adding help down the middle so Ryan O'Reilly is a possible candidate if St. Louis is out of the mix, same for Horvat if Vancouver can't extend him and they're not in the playoff picture.  If they have to aim a little lower, Montreal's Sean Monahan could also be an option as a middle-six veteran that can win some key faceoffs.  Help will be coming but it won't be for a few months.
DarkSide830: When can we expect the Bruins to hire a better PR department?
I'm not sure the decision to sign and subsequently release Mitchell Miller falls on the PR department.  This was a hockey decision and it's one that they weren't going to be able to put much of a positive spin on.  Of course, that decision will be felt for a little while, especially since they still have to terminate that contract, one that might carry a cap penalty if they opt for a buyout next summer.  They won't be spinning that one in a positive light either.
Photo courtesy of USA Today Sports Images.