As we approach the ten-game mark for many teams, decisions will have to be made on young players who are still slide-eligible. That designation means that if they spend the year outside of the NHL, they will not burn a season off their entry-level contract, effectively extending their time as an inexpensive option. For Wyatt Johnston, a return to junior isn't in the cards. The young forward has done enough to convince Dallas Stars general manager Jim Nill to keep him around, confirming yesterday's report from Jeff Marek of Sportsnet. Notably, Nill did explain that they could return Johnston later in the year if necessary.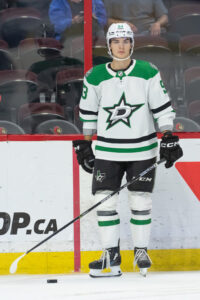 For some front offices, the 40-game mark is actually more important for a young player. It is at that point that the season is considered a full year of service time in regard to unrestricted free agent status. That is to say, if Johnston plays more than 40 games this year, he'll be one year closer to hitting the open market.
Still, with how well he has played so far, this shouldn't come as much of a surprise. After completely dominating the OHL last season, winning the league's Most Outstanding Player trophy, the Most Sportsmanlike trophy, the scoring race, and the playoff scoring race, it was clear that he was ready for professional hockey. Because of the CHL-NHL agreement, that couldn't be in the AHL, as Johnston is still only 19. So when the decision is between sending him back to a league where he scored 165 points in 93 games, or keeping him in the NHL, the team would be looking for a reason to keep him at the highest level.
Johnston has provided that reason, scoring three goals and four points in nine games while averaging just over 14 minutes a night. He's overmatched in the faceoff circle as many young forwards are, and there are some rough edges that still need to be polished on his overall game. But there is oodles of talent in the 2021 first-round pick (23rd overall), and enough maturity to stick around.
Notably, he has averaged more even-strength ice time than players like Roope Hintz, Denis Gurianov, and Jamie Benn, showing just how much confidence head coach Peter DeBoer has in the young forward. The Stars are transitioning to a new wave of talent and now sit first in the Central Division – though that could change over the next little while with Jake Oettinger's injury. It appears as though they're willing to let Johnston learn on the job, and make his junior days a thing of the past.