As the Ottawa Senators head into a season filled with excitement and high expectations, general manager Pierre Dorion had some more fun for fans at today's media availability. The team has agreed to an eight-year extension with Tim Stutzle, avoiding any restricted free agency with the young forward. The deal is for a total of $66.8MM and will carry an average annual value of $8.35MM. Stutzle is entering the final year of his entry-level contract and was scheduled to be an RFA next summer. The full details are as follows:
2023-24: $5.0MM
2024-25: $6.5MM
2025-26: $9.0MM
2026-27: $9.0MM
2027-28: $10.0MM + 10-team NTC
2028-29: $10.0MM + 10-team NTC
2029-30: $9.9MM + 10-team NTC
2030-31: $7.4MM + 10-team NTC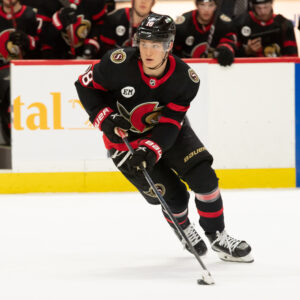 It is an eye-popping amount for the 20-year-old, who has played just 132 games at the NHL level, but Stutzle showed last season that he is on track to be a dynamic offensive player for a long time. With 22 goals and 58 points in 79 games, he trailed only Brady Tkachuk for the team lead while making the transition to center. The Senators are betting that his meteoric rise will only continue in the future, making this contract look like a bargain down the road.
That bet, while a decent one to make on a player this young and talented, also comes with a fair amount of risk. The Senators do not have unlimited funds to throw around, and with Tkachuk, Joshua Norris, and Thomas Chabot all signed for big-money deals, things may get tight down the road if any of them take a step backward. Remember, the Senators are also going to face a tough negotiation with Alex DeBrincat at some point, who has just one year left of RFA status after this season and will likely be looking for a massive contract.
Still, for a team that has had trouble retaining their stars in the past, the idea of having this core locked up through essentially their entire prime is great news for Senators fans. The drafted-and-developed talent will be sticking around, at least until the team decides it is the right time to move on.
Stutzle, the third overall pick from 2020, is penciled in as the team's second-line center for next season and could find himself between elite talent like DeBrincat and Drake Batherson, making quite the trio. For a team that has been near the bottom of the league for the last several years, the Senators top-six (and perhaps top-nine) looks quite formidable.
This contract will certainly be held up by other restricted free agents as well, given how much it relies on projection over actual results. Stutzle has just 34 goals to his name at the NHL level, fewer than Norris scored last season alone. He will nevertheless be paid more than his older teammate, who will start his own eight-year deal this season.
Photo courtesy of USA Today Sports Images