As the calendar has flipped to September, activity has started to pick up around the league with training camps on the horizon as some notable signings headline our key stories.
Vegas Adds A Goalie: With Robin Lehner out for the year, Vegas was looking at entering the season with a tandem of Logan Thompson and Laurent Brossoit, who is coming back from hip trouble.  GM Kelly McCrimmon spent some of his increased flexibility to add Phil Kessel earlier and then used most of what was left this past week to add another option between the pipes, acquiring Adin Hill from San Jose in exchange for a fourth-round pick.  The 26-year-old had an okay first season with the Sharks, posting a 2.66 GAA with a .906 SV% in 25 games in an injury-riddled year.  He has one year left on his contract with a $2.175MM AAV and while he has just 74 career NHL games under his belt, he'll give the Golden Knights another viable option as they look to get back to the playoffs without a true number one netminder.
Keeping Their Coach: Mike Sullivan had two more years left on his contract so there was no immediate need to work on a new deal.  However, that didn't stop the Penguins from locking up their bench boss as they handed him a three-year extension to keep him under contract through the 2026-27 campaign.  Sullivan has been behind the bench since December 2015, making him the second-longest tenured coach in the NHL behind Tampa Bay's Jon Cooper.  In that time, Pittsburgh has a 297-156-54 record (.639 points percentage) while winning a pair of Stanley Cups in 2016 and 2017.  The Penguins have had stability behind the bench for a while and with this move, that won't be changing anytime soon.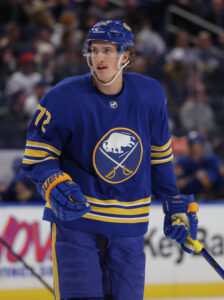 Seven For Thompson: Tage Thompson was one of the biggest surprises in the NHL last season.  After recording just 18 goals and 17 assists in his first 145 games, he exploded offensively in 2021-22 with 38 goals and 30 assists in 68 contests to lead the Sabres in scoring.  While Buffalo could have waited to see if he could sustain those numbers this coming season, they've instead given him a significant vote of confidence, handing him a seven-year, $50MM extension that will begin in 2023-24 and buys out five seasons of UFA eligibility.  It's a deal that certainly carries some risk if the 24-year-old takes a step back offensively, but if his performance is a sign of things to come, the Sabres will have their top a big piece of the puzzle locked up for the long haul.
Bridge For Oettinger: With Dallas not having a ton of cap space at their disposal and the fact that Jake Oettinger only had just 77 career NHL appearances, a bridge deal was the expected outcome for the restricted free agent.  In the end, that's exactly what happened as the two sides agreed to a three-year, $12MM agreement that will keep the 23-year-old RFA eligible at its expiration with a $4.8MM qualifying offer.  Oettinger started last season in the minors but quickly ascended to the starting role after being recalled in November, posting a 2.53 GAA along with a .914 SV% before a stellar performance against Calgary in the playoffs which nearly allowed them to pull off the seven-game upset.  With this deal done, the Stars will now turn their focus to RFA winger Jason Robertson.
Sticking Around: For the better part of a year, Canucks center J.T. Miller had been the subject of trade speculation with the team believed to have gone fairly deep into discussions with other teams.  But the whole time, both parties said they wanted to find a way to get an extension in place and they were able to do just that as the veteran signed a seven-year, $56MM deal that will begin in 2023-24.  The 29-year-old is coming off a dominant season that saw him record 99 points, good for ninth in the league.  $8MM for a top center isn't overly expensive from an AAV perspective if Miller is able to maintain close to that level of production although signing him through his age-37 season will carry some risk.  Even so, Vancouver has their top pivot locked up for the long haul as they look to get back to playoff contention.
Photo courtesy of USA Today Sports Images.