The Dallas Stars have signed restricted free agent goaltender Jake Oettinger to a bridge deal, inking him for the next three years. The deal will come with an average annual value of $4MM, and leave him an arbitration-eligible RFA at expiry. General manager Jim Nill explained just how important Oettinger is to the team:
Jake's performance spoke for itself last season. He has elite physical ability and presence in the net, while also exhibiting phenomenal mental strength in high-pressure situations. Jake's poise and character off the ice have made him a leader in our locker room. He has shown that he has the skill, work ethic, and poise to excel at the NHL level. He was a key part of the team's success last season, and we're excited to see him continue to grow here in Dallas.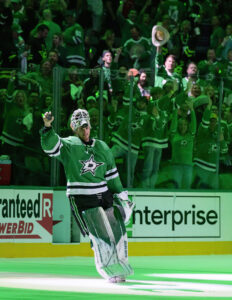 Oettinger, 23, was one of three players the Stars selected in 2017 that have gone on to become franchise cornerstones. He was picked between Miro Heiskanen and Jason Robertson that day, a draft that essentially changed the direction of the team thanks to some savvy scouting. The big netminder took a few years to develop but now sits as the Stars' no-doubt starter for next season, after recording a .914 save percentage in 48 appearances last year.
It was the playoffs where he really showed what he could do, though, posting a .954 in seven games to almost steal the first round from the Calgary Flames. With a bright future ahead of him and Robertson still to sign, a bridge deal always made sense for the young netminder. A $4MM cap hit still pays him handsomely while setting Oettinger up for an even bigger deal a few years down the line.
For Dallas, kicking the can down the road a few years was integral, as Jamie Benn's $9.5MM will be coming off the books after the 2024-25 season. Esa Lindell, Ryan Suter, and Radek Faksa are also scheduled to be unrestricted free agents that summer, meaning Nill and the rest of the front office will finally get some flexibility back. A longer contract is expected for Robertson, who has already established himself as an elite offensive player in the league after scoring 41 goals and 79 points this season.
The Stars still have more than $6.3MM for that contract and could create more by waiving someone before the season begins (or sending one of their entry-level players back down). All of that space will likely be needed for Robertson's contract, meaning this deal for Oettinger was never going to be able to get much bigger.
While there is no guarantee that he lives up to it, early returns on the big Minnesota native are promising. If Oettinger takes another step forward next season and starts putting up .920 save percentages, a $4MM cap hit will look like quite the bargain.
Photo courtesy of USA Today Sports Images