After a summer of trade rumors, it seems the J.T. Miller saga has reached its conclusion. The Vancouver Canucks announced today that their star center has signed a seven-year, $56MM contract carrying an $8MM AAV.
As mentioned, this deal comes after an offseason where Miller, who was set to hit unrestricted free agency next summer, was a frequent target of all sorts of trade rumors and speculation. Last month, we covered how Miller's representation had made it clear that they would be cutting off all contract talks once the 2022-23 season began. So, that upcoming deadline might have moved the pace of contract talks forward. The Canucks might have paid attention to what happened to the Calgary Flames with their own star forward, Johnny Gaudreau after Gaudreau took a similar stance last season and cut off extension talks once the 2021-22 season began. Gaudreau left for Columbus in the summer, and the Flames had to scramble to find a replacement as a result.
With this extension signed, the Canucks have avoided a similar fate. This deal is one of extreme significance for the Canucks. First and foremost, they have locked in their star centerman for what could end up being the rest of his playing days. Miller will be 30 when the contract begins, and by the time it finishes he could be at or near the end of his NHL career.
With that in mind, the seven-year term might concern fans of the Canucks. It's unlikely that Miller will be worth the $8MM cap hit he'll command when he's past the age of 35. That being said, though, it's not a certainty that he'll be an ineffective player, and the expected rise of the cap could limit the damage of this deal in its later years. If Miller can age as gracefully as Claude Giroux, for example, who received a three-year deal at a $6.5MM cap hit despite turning 35 in January, then the term will be less of an issue. But he'll need to stay in top shape in order to do so.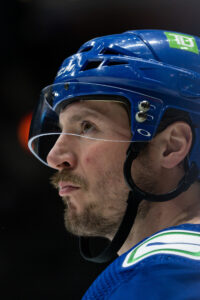 The benefit of this seven-year term, though, is that the cap hit of the deal is lower than some might have expected for a player of Miller's caliber. Miller was extremely productive last season, scoring 32 goals and 99 points in 80 games. He was an elite offensive force, showcasing the ability to take over shifts and elevate the play of his linemates.
If Miller can continue to produce at around a point-per-game rate, Miller will be underpaid at an $8MM cap hit. Miller's cap hit is lower than that of Sharks center Tomas Hertl, who has a career-high of 74 points, and identical to that of Ryan Johansen, who has crossed the 70-point plateau just once in his career. To put it simply, Miller's market value is higher than the $8MM he's being paid, which, at least in the short-to-medium term, is a win for the Canucks. It's just the final few years of this deal that pose the most downside risk.
Looking at this more broadly, the contract has major implications for the Canucks franchise as a whole. This is not an extension a team signs if they are looking to re-tool or rebuild. This is an extension that a team signs when they want to capitalize on the next few years. With this extension, the Canucks have seemingly given themselves a green light to operate in a win-at-all-costs manner in the short term. For a franchise still waiting on its first Stanley Cup victory, that's a sensible choice to make.
The challenge for the Canucks with this contract comes in terms of how it impacts the rest of GM Patrik Allvin's roster construction. The team's captain and second-line center, Bo Horvat, is set to hit free agency next summer. With Miller now extended, Elias Pettersson capable of playing center, and other long-term contracts already on their books for Quinn Hughes, Oliver Ekman-Larsson, Conor Garland, and Ilya Mikheyev, will the Canucks be able to finalize a Horvat extension? Should they?
That's an issue for the team to solve after next season, and perhaps the answer can come in the form of shedding their relatively highly-priced middle-of-the-lineup players such as Tanner Pearson and Jason Dickinson. For this season, the mandate for coach Bruce Boudreau is clear: win as many games as possible and try to go on a playoff run. There are those who believed the Canucks would be best served to enter into a rebuild, and with this contract, it's clear that's not the direction the organization will pursue.
Will it work out for them? At this point, we don't know. But what we do know is that the Canucks have found a way to retain one of their most talented players for what could end up being the rest of his playing days.
There will be those who don't like the cost of this contract or the term that's attached, and that's understandable. Retaining J.T. Miller's services will cost the Canucks a lot of money over the next few years, and the team's front office has chosen to accept the immense risks of that come along with that commitment. But if Allvin and team president Jim Rutherford want to give the Canucks the best possible chance of winning a Stanley Cup in the next couple of seasons, there really was no other choice they could make.
Photos courtesy of USA Today Sports Images