Hindsight is an amazing thing, and allows us to look back and wonder "what could have been."  Though perfection is attempted, scouting and draft selection is far from an exact science, and sometimes, it doesn't work out the way teams – or players – intended. For every Patrick Kane, there is a Patrik Stefan.
We're looking back at the 2008 NHL Entry Draft and asking how it would shake out knowing what we do now.  Will the first round remain the same, or will some late-round picks jump up to the top of the board?
The results of our redraft so far are as follows with their original draft position in parentheses:
1st Overall: Steven Stamkos, Tampa Bay Lightning (1)
2nd Overall: Drew Doughty, Los Angeles Kings (2)
3rd Overall: Roman Josi, Atlanta Thrashers (38)
4th Overall: Alex Pietrangelo, St. Louis Blues (4)
5th Overall: Erik Karlsson, Toronto Maple Leafs (15)
6th Overall: John Carlson, Columbus Blue Jackets (27)
Instead of the underwhelming Nikita Filatov, the Blue Jackets grab one of the best offensive defensemen of the last decade. Carlson has posted at least 70 points in three of the past four years and reached his career-high of 75 in the COVID-shortened 2019-20 campaign, earning him a second-place finish in the Norris Trophy voting. He logged nearly 26 minutes a night in his 2018 Stanley Cup run and is on track to hit 600 career points early this season. It's not often that a draft has five defensemen this capable that can dominate the early board but the Blue Jackets have followed the trend and picked their own franchise blueliner.
We now move on to the seventh selection and the first of two first-round selections by the Nashville Predators.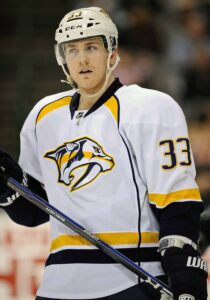 There was always a chance that the Predators could change the direction of their franchise with the 2008 draft, though few would expect it to come from the second round, when Josi was selected 38th. Instead, one would have thought it was either the seventh or 18th pick that would become the franchise-altering talent down the road.
With their first selection, general manager David Poile (who has been well connected to USA hockey for a very long time) decided to dip into the college ranks and take freshman standout, Colin Wilson, from Boston University. Wilson had absolutely dominated the U18s, scored six goals in six games at the World Juniors and had NHL pedigree. His father, Carey Wilson, had scored over 400 points at the NHL level and competed in the Olympics (for Canada), his uncle Geoff Wilson was a draft pick of the Pittsburgh Penguins, and his grandfather Jerry Wilson played three games for the Montreal Canadiens in 1956-57. In fact, Carey had been acquired by the Calgary Flames just months after Poile had left his role there as AGM, making the selection of Colin a kind of odd family circle.
This wasn't some nepotistic pick, though. Wilson was a powerhouse for BU, scoring 12 goals and 35 points in 37 games as a freshman, making him the ninth-ranked North American skater by NHL Central Scouting and a sure bet to be an impact player at the professional level. When he won the Jim Johannson Award as the USA Hockey College Player of the Year the following season and led BU to a national championship, it was clear he was ready to make the jump. He played in the World Championship that spring against NHL talent (where Poile was AGM for the U.S. team) and then transitioned to professional hockey in 2009-10.
While he may not be the best player selected that year, Wilson had a solid career, scoring 113 goals and 286 points in 632 games. He was a versatile middle-six forward for many years with the Predators, reaching a career-high 20 goals and 42 points in 2014-15.
After announcing his retirement in early 2021, Wilson continued to have a positive impact in a very different way. He released an emotional piece in The Players' Tribune that detailed his struggles with a diagnosis of obsessive-compulsive disorder, his battle to keep a career on the rails, and his hopes that others facing similar difficulties would open up about them in the future.
I played in the NHL. I lived my dream. And I fought through hell to make a career for myself. My name might not be on the Stanley Cup, and that's fine. Because I know there is an opportunity ahead of me to not just leave my mark on the game of hockey, but also on lives all across the world.
When Jimmy Hayes tragically died in the summer of 2021 because of an apparent drug overdose, Wilson took to the Tribune's pages again, to go even deeper into his own history of drug abuse. It was an attempt to come clean with himself and perhaps shine a bit brighter spotlight on the growing overdose epidemic, and how it affects people with mental health disorders.
Unlike some of the other players that were picked in the first round, Wilson wasn't a bust. He sits 18th in points among all players from the draft class. But With the advantage of hindsight, the Predators can pick a different talent, someone that would have had an even greater effect on the organization.
With the seventh overall pick in the 2008 NHL Draft, who will the Nashville Predators select? Cast your vote below.
[Mobile users click here to vote!]
Photo courtesy of USA Today Sports Images