Hindsight is an amazing thing, and allows us to look back and wonder "what could have been."  Though perfection is attempted, scouting and draft selection is far from an exact science, and sometimes, it doesn't work out the way teams – or players – intended. For every Patrick Kane, there is a Patrik Stefan.
We're looking back at the 2008 NHL Entry Draft and asking how it would shake out knowing what we do now.  Will the first round remain the same, or will some late-round picks jump up to the top of the board?
The results of our redraft so far are as follows with their original draft position in parentheses:
1st Overall: Steven Stamkos, Tampa Bay Lightning (1)
2nd Overall: Drew Doughty, Los Angeles Kings (2)
3rd Overall: Roman Josi, Atlanta Thrashers (38)
4th Overall: Alex Pietrangelo, St. Louis Blues (4)
5th Overall: Erik Karlsson, Toronto Maple Leafs (15)
If this poll was done a few years ago, Karlsson may have challenged for the top spot given how incredible his early career was. The high-flying defenseman won the Norris Trophy in his third season, another in his sixth, and was the runner-up in years seven and eight. There have been few defensemen in the modern era with such a dominant stretch, and it culminated in the 2017 playoffs when Karlsson nearly carried the Ottawa Senators to the Stanley Cup Final (seemingly by himself at times), leading the team in scoring while playing more than 28 minutes a night.
After some injury-plagued seasons and a massive contract that has made him a financial anchor in San Jose, Karlsson's career has certainly plateaued and made him the fifth pick in our hindsight draft.
We now move on to the sixth pick and the first real "bust" of the 2008 draft.
The early history of the Columbus Blue Jackets was filled with draft-day mistakes. Rostislav Klesla, Pascal Leclaire, Nikolai Zherdev, Alexandre Picard, Gilbert Brule. Not exactly the definition of a Hall of Fame lineup. By 2008 though, things were starting to look up. The team had obviously hit with Rick Nash, who had become a superstar by that point, and the previous two drafts had produced Derick Brassard and Jakub Voracek in the first round (not to mention Steve Mason in the third).
Unfortunately, 2008 wouldn't be so kind, at least at the top of the board.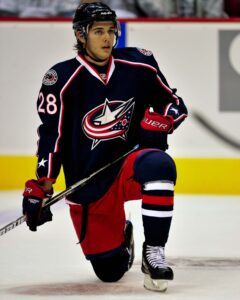 After seeing four straight defensemen come off the board with Doughty, Zach Bogosian, Pietrangelo, and Luke Schenn, the Blue Jackets took the podium and went with an incredibly skilled Russian sniper by the name of Nikita Filatov, who had made it to the top domestic league even as a teenager. At the time, some claimed that there was no player in the draft with a higher offensive ceiling than the young winger, who had put up ridiculous numbers in the lower levels in Russia, and dominated at international tournaments against his own age group.
Unlike most Russian players, Filatov wasn't signed to a contract back home and could come to North America right away, which he did, joining the Syracuse Crunch of the AHL after an early-season stint with the Blue Jackets. The talent was there and during a January recall, he showed it off, recording a hat trick in his sixth NHL game, despite seeing just 16 shifts that night.
If you are wondering why his career page includes just 47 more NHL games, a total of 53 before he went back to the KHL (and also never really developed there), part of Aaron Portzline's retrospective for The Athletic earlier this summer may have an answer:
Filatov was undeniably skilled and a world-class sniper, but coaches were trying to show him the reward that could be his if he simply followed the puck to the net and showed even a half-hearted willingness to play in traffic.

After four or five clips, Filatov stepped back from the screen as if he was slightly startled. He looked at coach Rob Riley and the video assistant and said, flatly: "Filly don't do rebounds."
Filatov would finish his NHL career with just six goals and 14 points, while seven other players in the 2008 top 10 are still active in the league today. It was a devastating miss for an organization that made it to the playoffs for the first time in 2009 and desperately could have used a top-end defenseman to help Nash take the team to the next level–especially because they landed plenty of offensive help in Cam Atkinson way down in the sixth round that year.
So there is no doubt that the Blue Jackets made a mistake in selecting Filatov but who should they have gone with instead? With the sixth overall pick in the 2008 NHL Draft, who will the Columbus Blue Jackets select? Cast your vote below.
[Mobile users click here to vote!]
Photo courtesy of USA Today Sports Images