Navigating the salary cap is one of the more important tasks for any GM.  Teams that can avoid total cap chaos by walking the tightrope of inking players to deals that match their value (or compensate for future value without breaking the bank) remain successful.  Those that don't see struggles and front office changes.
PHR will look at every NHL team and give a thorough look at their cap situation heading into the 2022-23 season.  This will focus more on players who are regulars on the roster versus those who may find themselves shuttling between the AHL and NHL.  All cap figures are courtesy of CapFriendly.
Los Angeles Kings
Current Cap Hit: $80,986,667 (under the $82.5MM Upper Limit)
Entry-Level Contracts
D Tobias Bjornfot (one year, $894K)
F Quinton Byfield (two years, $894K)
F Arthur Kaliyev (two years, $894K)
F Rasmus Kupari (one year, $863K)
D Jordan Spence (two years, $820K)
Potential Bonuses
Bjornfot: $262.5K
Byfield: $2.65MM
Kaliyev: $150K
Kupari: $350K
Spence: $82.5K
Total: $3.495MM
Kailyev had a decent first full NHL season, notching 27 points in 80 games in a limited role.  He's likely to remain in the bottom six for a little while yet which will likely have him trending towards a bridge contract in 2024, one that would still more than double his current price tag.  Byfield, the second-overall pick in 2019, had a quiet rookie year and is unlikely to play any higher than the third line with the veterans ahead of him on the depth chart.  Accordingly, a big-ticket contract isn't coming his way in two years' time; both sides will want a short-term pact.  Kupari was a serviceable checking forward last season which isn't bad but they're hoping for more offensively from him.  A similar showing this season will put his bridge contract in the $1.5MM range.
Bjornfot was a fixture on the third pairing for most of last season and it will be interesting to see if head coach Todd McLellan pushes him a little higher in 2022-23.  His limited offensive upside will limit his earnings potential (especially if they try to work out a long-term deal) but he'll have a shot at doubling his price tag next summer.  Spence could be a waiver-exemption roster casualty in camp but after logging nearly 20 minutes a game in limited action last season, he has earned a longer look.  It's a bit early to forecast his next deal but as someone that was quite productive in the minors and did well in his first NHL stint, he's someone that could be poised for a considerable jump on his second deal.
Signed Through 2022-23, Non-Entry-Level
F Jaret Anderson-Dolan ($750K, RFA)
F Lias Andersson ($750K, RFA)
D Alex Edler ($750K, UFA)
F Brendan Lemieux ($1.35MM, UFA)
F Trevor Moore ($1.875MM, UFA)
G Jonathan Quick ($5.8MM, UFA)
F Gabriel Vilardi ($825K, RFA)
F Austin Wagner ($1.133MM, RFA)
Potential Bonuses
Edler: $750K
Moore is coming off a breakout year that saw him more than double his previous career-high in points while establishing himself as a fixture on the second line.  At this point, both sides will want to see how things go next year; a repeat performance could put him closer to the $3.5MM to $4MM mark while a dip closer to his career averages would knock at least a million off of that range.  Lemieux quickly re-signed after being non-tendered but will need to establish himself as more than just a fourth-line energy winger if he wants an opportunity to really get to that next salary tier.  Wagner spent all of last season in the minors but could be back on the fourth line at some point.  Otherwise, all but $8.3K can be buried in AHL Ontario if he clears waivers again.
Among the younger forwards, Vilardi was quite productive with AHL Ontario last season but didn't produce much with the Kings, just seven points in 25 games.  That got him a one-year bridge deal.  At this point, he's likely to break camp as he's now waiver-eligible but this could be a make-or-break year with several other youngsters in the pipeline.  Andersson and Anderson-Dolan are in similar situations, players who are also now waiver-eligible and haven't produced much to date in the NHL.  Until they can establish themselves as regulars, they'll be going year-to-year on their deals.
Edler was once again limited due to injuries last season but he did well in a supporting role when he was in there, resulting in a one-year extension.  At 36 and with his injury history, he'll be going year-to-year on similarly-structured deals for the rest of his career.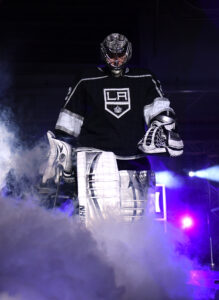 Quick has been a fixture between the pipes for the Kings for more than a decade.  Heading into last season, his contract looked like a considerable overpayment for someone that was expected to be pushed down into the second-string role.  However, he then went out and became the 1A option once again which changes the outlook of his contract considerably.  Quick will be 37 when his next contract is signed so he will likely be going year to year moving forward but if he can even keep a grab of a platoon spot, he should have some interest on the open market in the $3.5MM range next summer.  Will he be willing to leave Los Angeles, however?  That one remains to be seen.
Signed Through 2023-24
F Viktor Arvidsson ($4.25MM, UFA)
F Carl Grundstrom ($1.35MM, RFA)
F Anze Kopitar ($10MM, UFA)
F Blake Lizotte ($1.675MM, RFA)
D Jacob Moverare ($762.5K, RFA)
D Matt Roy ($3.125MM, UFA)
D Sean Walker ($2.65MM, UFA)
Kopitar has been the top center for the Kings for most of his 16-year career and even if he hasn't produced at the level of a high-end pivot, his defensive play has made him a true number one.  However, he'll be 37 two years from now and the days of him logging over 20 minutes a night should be done by then.  His next contract could very well be his last and should be either two or three years with an AAV closer to the $6MM mark as long as he can still play at a second-line level by the end of the 2023-24 campaign.
A new team was just what Arvidsson needed as he had a nice bounce-back year after a pair of quiet seasons at the end of his tenure with Nashville.  He fit in nicely on the second line, one that was very effective defensively, good offensively, and carried plenty of possession.  Continuing that combination for the next two seasons would give him a good chance of adding another million or so on his next contract.  Lizotte just wrapped his first full NHL season on the third line which understandably resulted in a short-term second contract.  He'll need to establish himself as capable of playing a bit more than 12 minutes a night by 2024 as otherwise, he could be one of those arbitration risks that teams are opting to walk away from more frequently.  Grundstrom has provided the Kings with plenty of physicality, albeit in a limited role and with the look of their roster right now, his short-term fortune isn't likely to change.  That could put him in the same situation Lemieux was last month, getting non-tendered to avoid arbitration.
Roy has never been a particularly flashy defenseman which is what made this deal – originally a four-year pact – a bit of a head-scratcher at the time.  However, he continues to be a reliable role player and he stepped up quite nicely when injuries arose last season.  As is the case with Bjornfot, his limited offensive upside will limit the price tag of his next contract but there's room for him to add a little more to his current AAV.  Walker missed all but six games last season due to a knee injury and has been used as a fifth defenseman when he has played over the last couple of years.  As teams look to trim costs by going with more cost-effective depth players, that could be a challenge for Walker unless he can step into a top-four role.  Moverare is now waiver-eligible and with him signed for two years at the minimum, he's a risk to be claimed off waivers so he'll likely enter the season as their seventh defenseman although that's not great from the perspective of his next contract.
Signed Through 2024-25
F Alex Iafallo ($4MM, UFA)
G Calvin Petersen ($5MM, UFA)
Iafallo is the ideal winger in the sense that can play different roles and succeed in all of them.  That type of versatility can be quite valuable to a team and he has done well in that role with the Kings.  On the other hand, with some wingers feeling the pinch in recent UFA contracts, this also now looks like a bit of an above-market contract.  The financial landscape should change by the time this deal is up though so the valuation of the contract might be different a couple of years from now.
Petersen signed this contract a year ago as an extension to his now-expired deal so this will be his first year with the weight of expectations that a deal like this carries.  Instead of being a second option making less than a typical backup, he's now tied for 14th in AAV among all NHL goaltenders despite having just 91 career regular season games under his belt.  If he can wrestle back the starting role and play 50-55 games a season, they'll get good enough value out of this deal but that's a bigger question mark now than it was a year ago.
Signed Through 2025-26 Or Longer
F Phillip Danault ($5.5MM through 2026-27)
D Drew Doughty ($11MM through 2026-27)
F Kevin Fiala ($7.875MM through 2028-29)
F Adrian Kempe ($5.5MM through 2025-26)
Fiala had a career year with Minnesota last season, reaching 85 points.  For context, his previous benchmark was 54.  The Kings clearly believe the breakout is a sign of things to come after acquiring the 26-year-old and immediately handing him this contract.  Danault was a bit of a surprise signing last summer since they have so many prospect centers but he displayed a scoring touch that was rarely seen in Montreal while being one of the top defensive pivots in the league.  Kempe also had a career year in 2021-22, scoring 35 goals after his previous best was 16 set back in his first full season.  He doesn't need to score 35 to justify this price tag but they'll be expecting 25 per year on average with his usual defensive play to get good value on this deal.
Doughty missed the second half of last season and the playoffs due to a wrist injury but before that, he was still playing at the level of a high-end top defenseman.  But the issue for the Kings here is that there's no way that he can provide surplus value on this deal.  Even at his best, this is still at least a couple of million above market value and as this contract progresses and he eventually has to start playing a little less, it will start to hurt more than it has so far.  But in terms of on-ice play, his return will certainly be welcomed as an all-situations player that, for now, can still log top minutes.
Buyouts
D Dion Phaneuf ($1.0625MM in 2022-23)
Salary Cap Recapture
F Mike Richards ($900K in 2022-23, costs dip gradually down to $400K in 2031-32)
Retained Salary Transactions
None
Still To Sign
D Michael Anderson
D Sean Durzi
Anderson has done well defensively while logging top-four minutes over his first couple of seasons.  There's a case for him to be closer to the $2MM mark on a two-year deal but with the Kings having very limited cap space, they're likely to push for a one-year pact that will be a bit less than half of that number.  As for Durzi, he has been more of an offensive threat and those numbers always look nice in contract talks.  With just one NHL campaign under his belt, Los Angeles is also likely to push for a one-year pact to keep the cap hit down.  The good news is that they might be able to get those deals done and stay below the cap if they're one-year pacts.  The bad news is that they'll be handing both of these players arbitration eligibility next summer.
Best Value: Moore
Worst Value: Doughty
Looking Ahead
Once they re-sign those defensemen, the Kings are going to be capped out which is going to limit their in-season movement, especially if injuries strike early on.  Things look better from a long-term perspective, however.
With their young players being eased in, no one should be landing a big-money, long-term contract that bypasses the bridge deal altogether.  That will give this core a bit more time together with the hopes that those youngsters will play themselves into bigger roles as the veterans see their contracts expire.  It's unlikely that GM Rob Blake will have enough financial flexibility to make another Fiala-like move in the next couple of years but there shouldn't be any cost-cutting moves on the horizon either.
Photo courtesy of USA Today Sports Images.