At the peak of his game, defenseman Anton Stralman was possibly the most underrated two-way defenseman in the league. In his late 20s, his first few seasons in a Tampa Bay Lightning uniform were his best, receiving some Norris votes and flourishing in a top-four role on an emerging Tampa team looking to win. Since signing a well-paid free-agent deal with the Florida Panthers in 2019, though, his point production and his defensive play have declined severely.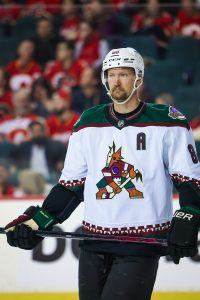 Fresh off his 36th birthday at the beginning of the month, Stralman is still looking for an NHL contract next season. Spending the final season of that three-year contract signed with Florida with the Arizona Coyotes, Stralman did have his highest point total since 2015-16. It also came with an increase in ice time, though, which saw his defensive game decline even further from where it had in Florida.
Stralman still carries value in his leadership and experience, and given he's 70 games away from 1,000 in the NHL, it's a fair bet to assume he still has the drive to play in the NHL. On a contending team, though, he's likely not more than a sixth or seventh defenseman at this stage. He does have the added value of being a right-shot defenseman, which some teams could surely use some added depth at. His play-driving ability, at least offensively, is still strong, but would likely need a sound two-way partner to have a lot of effectiveness.
Stats
2021-22: 74 GP, 8-15-23, -16 rating, 12 PIMs, 95 shots, 44.4 CF%, 21:20 ATOI
Career: 930 GP, 63-230-293, +49 rating, 285 PIMs, 1314 shots, 51.3 CF%, 20:00 ATOI
Potential Suitors
One team looking to make the next step that needs some added security at right D is the Vancouver Canucks. A bottom-pairing role could be a good fit for Stralman here alongside a solid, young two-way partner in Travis Dermott. It's a win-win, allowing Dermott to benefit from Stralman's leadership, and Stralman's play on its own is likely an upgrade over that of Kyle Burroughs or Tucker Poolman. The Canucks already have a lot of depth defensemen in the organization, though, and with Jack Rathbone fighting for NHL ice time, it might be too much for the organization to add to at this point.
The Edmonton Oilers are also a team without much defensive depth outside of their top six, which is fairly locked in at this point. With no great options to carry around as an extra on the NHL roster, Stralman could look to head to Alberta for a chance to win his first Stanley Cup.
With the Florida Panthers losing both MacKenzie Weegar and Ben Chiarot this summer, a return to the Sunshine State may also be a good fit for Stralman, who could join a depth contingent there that includes Marc Staal and Lucas Carlsson.
Projected Contract
At this stage, unless he's joining a team not expected to make a huge playoff bid, Stralman's contract would likely be a one-year deal close to, if not exactly, the league minimum $750K. All of the above-mentioned suitors are teams right up against their salary cap limits, and fitting Stralman in would be a tough ask if he's not on the cheap.
Photo courtesy of USA Today Sports Images