While there were some big signings over the past seven days, there were also some notable injuries that are also featured in our key stories.
Signing Middlemen: In the span of a few hours, the Bruins shored up their center situation for next season.  They first signed Patrice Bergeron for what will be his 19th season with the team, giving him a one-year, $2.5MM deal with an additional $2.5MM in bonuses that will be earned once he plays in ten games.  Next up was a reunion with David Krejci after a season overseas as he received a one-year pact worth $1MM in base salary and $2MM in bonuses, three-quarters of which will be earned once he gets to 20 games.  Lastly, they inked Pavel Zacha to a one-year, $3.5MM deal to avoid salary arbitration.  Boston now has strong depth down the middle but while all three are on one-year pacts, they'll likely be paying a good chunk of that money in 2023-24 through a bonus overage penalty.  That deferral will allow them to take one more run at contention with their veteran core.
Big Money For Crouse: The Coyotes have talked about winger Lawson Crouse being a big part of their future plans.  They demonstrated their faith in the 25-year-old as they signed him to a five-year deal that carries a $4.3MM AAV.  Crouse is coming off of his first 20-goal season while he has led the Coyotes in hits for four straight years.  Power forwards are hard to come by and often command pricey deals and that was the case here as Arizona bought out the final two years of Crouse's RFA eligibility plus his first three UFA-eligible campaigns, ensuring they'll have him for the prime of his career.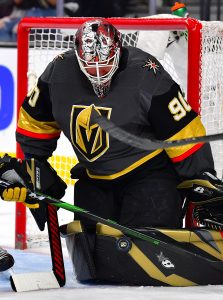 Lehner Out For The Year: The Golden Knights will be without their starting goalie for the entirety of the 2022-23 season after it was announced that Robin Lehner will need hip surgery.  This comes on the heels of the shoulder surgery he had back in May on an injury that ended his season prematurely.  Vegas will now add his $5MM to their LTIR pool which will also feature Shea Weber ($7.857MM) and perhaps Nolan Patrick ($1.2MM).  That gives Vegas some flexibility to try to add a replacement netminder and re-sign defenseman Nicolas Hague.  With the availability of backup Laurent Brossoit for the start of the season also in question after his hip surgery, youngster Logan Thompson is currently set to be their opening night starter.
Five For Roy: This past week wasn't just bad news for Vegas as they agreed to a five-year, $15MM deal with center Nicolas Roy.  The 25-year-old established himself as a capable third-line center last season, notching 15 goals and 24 assists in 78 games while logging over 16 minutes a night.  For context, he had just 25 points in 85 games heading into the season.  It's a bit of a risky agreement given Roy's lack of a proven track record but there is also plenty of upside with this deal as if he's able to play even at a similar level over the next few years, this should become a bargain contract for the Golden Knights.  On a veteran-laden team that doesn't have many below-market value deals, Roy's should be one of the exceptions before too long.
Achilles Injuries: A pair of players suffered torn Achilles tendons during offseason training and have undergone surgery.  The first was Hurricanes winger Max Pacioretty, one of their key summer acquisitions.  Instead of him helping to offset the losses of Vincent Trocheck and Nino Niederreiter, they'll now have to wait until closer to the trade deadline for him to make his Carolina debut.  They won't have any short-term cap issues with his $7MM AAV becoming eligible for LTIR but that's not much consolation.  Meanwhile, after missing all of last season with a core muscle injury, Sharks blueliner Nikolai Knyzhov also sustained the injury and will be out for six months.  The 24-year-old was a regular for San Jose back in 2020-21 but it will be quite a while again before he'll have a shot at reclaiming his spot on their back end.
Photo courtesy of USA Today Sports Images.