The captain is back, as Patrice Bergeron has officially re-signed with the Boston Bruins. The legendary defensive forward will be back for his 19th season, agreeing to a one-year, $2.5MM contract. The deal also has an additional $2.5MM in potential performance bonuses.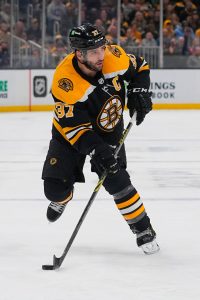 Not only does this bring back one of the best players in Bruins history but Bergeron has done the team a huge favor by agreeing to such a reasonable contract. Because he is over the age of 35 and signing a one-year deal, he's eligible for performance bonuses. If any part of that bonus money would put the team over the salary cap ceiling by the end of the year, they can be pushed to the 2023-24 books.
Given the fact that Renaud Lavoie of TVA Sports is reporting that the entire $2.5MM bonus is for 10 games played, this is essentially a way for the Bruins to split Bergeron's cap hit between two seasons. They can now operate as if he is only taking up $2.5MM, while then incurring up to a $2.5MM penalty next season – whether he plays or not.
Still, that is a ridiculously low number for a player of his ability. The 37-year-old had one of the best defensive seasons in history last year, and added 25 goals and 65 points in 73 games, winning his record fifth Selke Trophy in the process. Had he actually been on the open market, he likely could have secured multiple years and a much higher salary.
There was never any chance of him going somewhere else though, as Boston has been his home for two decades. The Bruins selected Bergeron 45th overall in 2003, and he has been a pillar of consistency in their lineup basically ever since.
One of the few players left in the league to have played before the 2004-05 lockout, Bergeron was a rookie in 2003-04 and scored 16 goals and 39 points as a teenager. After the NHL resumed in 2005, he was already an All-Star level talent, with 31 goals and 73 points in his sophomore year. After 1,216 regular season games with the team, he sits on 400 goals and 982 points, meaning he'll have another milestone night at some point this year.
Whether the rest of the Bruins roster is good enough to contend for the Stanley Cup still remains to be seen but there is no arguing against the fact that Bergeron gets them closer. The veteran forward will be in the Hall of Fame one day, and the team is paying him as if he's a depth option.
Photo courtesy of USA Today Sports Images