Aug 9: Krejci's contract will include a full no-trade clause, and the performances bonuses are based on the following thresholds, according to CapFriendly:
10 games played: $1.0MM bonus
20 games played: $500K bonus
Playoff qualification: $500K bonus
Aug 8: It's not just Patrice Bergeron who is returning today. The Boston Bruins have also officially announced a new contract for David Krejci, bringing him back from overseas for another go-round with the club. The veteran forward has signed a one-year, $1MM contract that includes an additional $2MM in potential performance bonuses.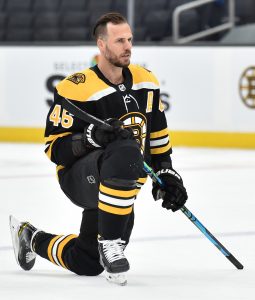 Like Bergeron, Krejci comes with a contract that includes performance bonuses that can be pushed to the 2023-24 season if the Bruins end up not being able to fit them in under the cap this year. Unlike Bergeron though, Krejci isn't coming off a Selke Trophy season, in fact, he's not even coming off an NHL season.
The 36-year-old went back to Czechia last year, stating that he wanted his family to be able to see him play in their native land. In 51 games for Olomouc HC, he scored 20 goals and 46 points, while also attending the Olympics, scoring four points in four games. It was his performance at the World Championship, when he was reunited with Bruins teammate David Pastrnak, that really showed how effective Krejci could still be. In ten games at the event, he racked up 12 points, helping Czechia to a bronze medal.
He'll now return to the only NHL team he ever played for. Krejci, a second-round pick in 2004, spent 15 years in Boston before going back to Europe, playing in 962 games with the Bruins. He registered 215 goals and 730 points during that time, while also being a dominant playoff performer. On two different occasions, he led the entire league in postseason scoring, with one of those times resulting in a Stanley Cup championship. His return will give the team another center option at a bargain-bin price.
Still, while Bergeron's numbers have remained strong, Krejci had already been experiencing something of a downward trend in recent years. He scored just eight goals in 51 games during the 2020-21 season, and 13 in 61 the year before that. While he's always been known more for his playmaking ability, there should be at least some concern about his scoring touch after more than a year away from the NHL.
The good thing for the Bruins is it barely matters, as Krejci comes in just barely over the NHL minimum, at least for his base salary. Most teams in the league would likely be willing to add a player of his stature for that amount, even if there is at least some risk that he can't keep up anymore.
For Boston, getting the band back together this offseason was the obvious goal, though there is still some work to be done. Pavel Zacha remains unsigned after they acquired him from the New Jersey Devils, and Pastrnak needs an extension if he's going to stay with the Bruins long-term.
Photo courtesy of USA Today Sports Images