Max Pacioretty's debut with the Hurricanes is going to have to wait a while.  The team announced today that the veteran winger is set to undergo surgery to repair a torn Achilles on Wednesday and will be out for six months.
The 33-year-old was acquired from Vegas last month along with defenseman Dylan Coghlan in exchange for future considerations in a trade that was solely done to free up cap space.  Pacioretty is coming off an injury-plagued year that saw him miss time due to four separate injuries but when he was in the lineup, he was quite productive, notching 19 goals and 18 assists in just 37 games.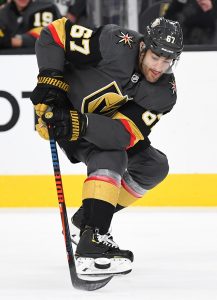 His addition was expected to help offset some of their losses up front with Vincent Trocheck going to the Rangers in free agency while Nino Niederreiter landed with the Predators.  Instead, Carolina won't have Pacioretty in their lineup until sometime in February which is close to the trade deadline.  He would have been a capable veteran to help youngsters Seth Jarvis, Jesperi Kotkaniemi, and Martin Necas but now, those three will have a little more pressure to produce on their shoulders as things stand.
In the short term, this news eliminates Carolina's cap problems for most of the season.  When Necas signed earlier today, that put them more than $1MM over the $82.5MM Upper Limit of the salary cap and with defenseman Jake Gardiner cleared to return, they weren't going to have the ability to put him on LTIR.  Now, Pacioretty will go there, allowing the Hurricanes to spend up to his $7MM AAV over the cap.  The fact that he'll return later in the season will make it difficult for them to go out and acquire a replacement but at a minimum, they won't have any compliance issues for the first few months and will be able to carry a full-sized roster without any concerns.
Of course, that's only a small consolation as they'd much rather have Pacioretty, a player who has produced at nearly a point per game pace over the past three seasons with 154 points in 158 games.  But now, they'll have to wait more than half of the season before their top offseason acquisition up front will be able to make his debut.  And with Pacioretty entering a contract year, missing 50 games or more won't help his market value next summer when he goes in search of his next deal.
Photo courtesy of USA Today Sports Images.