Free agency is now less than a week away and teams are looking ahead to when it opens up.  There will be several prominent players set to hit the open market in mid-July while many teams have key restricted free agents to re-sign as well.  Next up is a look at the Colorado Avalanche.
Key Restricted Free Agents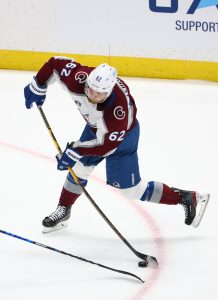 F Artturi Lehkonen – Montreal didn't want to move the winger at the trade deadline but GM Joe Sakic parted with prospect blueliner Justin Barron and a 2024 second-round pick which was enough to land the 27-year-old.  The move worked out quite well for Lehkonen and Colorado as he proved to be a strong fit both offensively and defensively while he scored a pair of key goals in the playoffs, the one to get them to the Stanley Cup Final and the one that was the Cup-winner in the sixth game of the series.  Lehkonen has yet to crack the 40-point mark in his career but is a strong defensive forward and with his offensive improvement in Colorado, he could pass the $4MM mark on a one-year award while a long-term deal that buys out some UFA eligibility could push him closer to the $4.5MM range.
G Alexandar Georgiev – The freshly-acquired netminder is in need of a new contract and his fortune has certainly changed in recent days.  Some expected him to be non-tendered with the goalie trade market usually not being strong but that changed this year with Colorado flipping three draft picks for the rights to the 26-year-old.  Georgiev is arbitration-eligible and is coming off a quiet season that saw him post a 2.92 GAA along with a SV% of just .898.  However, with the Avs committing to a platoon of Georgiev and Pavel Francouz, it's clear they'll want to get their new goalie locked up on a multi-year deal soon.  GM Joe Sakic told reporters after the draft, including Pierre LeBrun of TSN and The Athletic (Twitter link) that he expects to get this deal done by the end of the weekend.
F Nicolas Aube-Kubel – Claimed off waivers by Colorado back in November, the 26-year-old fit in well with the Avalanche, picking up 11 goals and 11 assists in 67 games despite averaging less than 10 minutes a night in ice time.  He's owed a qualifying offer of $1.225MM which isn't overly high but he's also arbitration-eligible.  It's possible that the Avs want to avoid giving Aube-Kubel that option as that could push the salary higher than they can afford for someone in that role.  If they can't get an agreement in place by the tender deadline, it's possible that Aube-Kubel goes unqualified.
Other RFAs: F Shane Bowers, F Callahan Burke, F Nick Henry, F Mikhail Maltsev, D Keaton Middleton, F Andreas Wingerli
Key Unrestricted Free Agents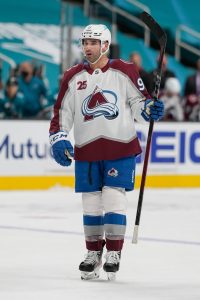 F Nazem Kadri – There's rarely a bad time for a career year offensively but having one in the final season of a contract before becoming UFA-eligible is basically the best time for one.  Kadri, who had been a solid secondary scorer for most of his career, found a new gear entirely as he set new career-bests in assists (59) and points (87) in 71 games while logging over 19 minutes a game.  As a result, the 31-year-old has positioned himself as the top center on the UFA market this summer and as we all know, high-end centers are always in short supply and high demand and Kadri is well-positioned to go for a seven-year max-term deal with a cap hit at or higher than $8MM per season.  That's a price tag Colorado is unlikely to be able to afford especially with Nathan MacKinnon's contract up a year from now.
F Valeri Nichushkin – Dallas fans can only be wondering 'what if?' when it comes to the 27-year-old.  After two disappointing stints with the Stars including one where he didn't score a single goal in 57 games, they actually bought him out which paved the way for him to join Colorado.  From there, Nichushkin has continually improved and is coming off a 25-goal, 27-assist season in just 62 games while providing strong offensive contributions in the playoffs with 15 points in 20 contests.  He's a quality penalty killer as well which only increases his value.  Nichushkin is coming off a contract that carried a $2.5MM AAV and it's quite possible he doubles that on the open market next week.
F Andre Burakovsky – The 27-year-old wasn't able to produce with the type of consistency Washington was hoping for which helped lead to his trade to Colorado in 2019.  Since then, Burakovsky has been able to put up consistent second-line production and he improved on that in 2021-22 with 22 goals and 39 assists, both career-highs.  That has him in line for a nice jump on the $4.9MM AAV he has played under for the last two seasons.  An extra million or so on a long-term agreement is definitely doable.
G Darcy Kuemper – Colorado paid a high price to get Kuemper on the final year of his contract (with salary retention) and they quickly realized they wouldn't be able to afford the veteran on his next deal, leading to the Georgiev trade.  The 32-year-old is the most proven goalie to hit the market this summer and is coming off a strong season that saw him post a 2.54 GAA along with a .921 SV%.  While his numbers weren't as impressive in the playoffs, that shouldn't hurt his market too much.  It has been suggested that his camp is seeking a contract similar to the one former Colorado netminder Philipp Grubauer received from Seattle (six years, $5.9MM AAV).  Kuemper might not get that at his age but something close should be doable.
D Josh Manson – When Colorado picked up Manson, they were looking for some reliability and stability at the bottom of their defense corps.  He provided exactly that.  The 30-year-old played a lesser role than he did with Anaheim but that shouldn't affect his market next week.  Manson is a quality second-pairing player that can play upwards of 20 minutes a game, kill penalties, and play in late-game defensive situations.  A lack of offense limits his earnings upside to a degree (he has only reached 20 points once in an eight-year NHL career) but he should be able to get a bit more than the $4.1MM he made on his expiring contract with a multi-year commitment as well.
Other UFAs: D Dennis Gilbert, D Jordan Gross, F Darren Helm, D Jack Johnson, D Jacob MacDonald, F Stefan Matteau, D Roland McKeown, G Hunter Miska, D Ryan Murray, F Kiefer Sherwood, F Dylan Sikura, F Nico Sturm
Projected Cap Space
Colorado has over $24MM in cap space to work with.  Suffice it to say, it won't take long to spend that up as a few of the above players plus some depth pieces to round out the roster will more or less take care of that money in a hurry.  The Avalanche will be losing some important players next week but there's a big, shiny silver lining that they won a couple of weeks ago that should help ease the sting of some of those pending departures.
Photos courtesy of USA Today Sports Images.  Contract information courtesy of CapFriendly.